Lyft Is Making It Easier to Get Your COVID-19 Vaccine
The platform it's rolling out two new features that will help.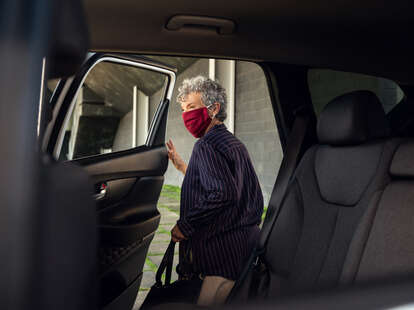 Access to easy transportation, especially ride services like Lyft and Uber, is a privilege. One that not everyone has—even for those important essential trips like, say, getting a COVID-19 vaccine. Lyft announced on Thursday that it's doing something about that.
The company said it's rolling out of two new features, one of which allows you to personally send someone else a ride so that they can get where they need to go—be it the grocery store, the doctor, whatever. The new feature is called "Rides for Others," according to a press release.
"Rides for Others allows individuals to easily help their parents, grandparents, or other loved ones travel to essential destinations like vaccine centers, grocery stores, and non-emergency medical care," Lyft said in a blog post. "Rides for Others, which also gives riders and drivers clarity about the identity of the other person in the car, reduces confusing pick-up experiences, and allows riders and drivers to rate each other after the ride, is available nationwide."
Here's how it works: Just tap the search bar, click the "me" button, and hit "add rider." You'll follow a few prompts, plug in the pickup location, then destination. The only stipulation is that your ride recipient will need their own app account so they can receive the necessary details.
In addition, Lyft is offering an all-new "Family" function, which allows you to add multiple riders to a single account for real-time trip updates, expense tracking, and the option to pay for your loved one's ride. Book grandma and grandpa that trip to the local vaccine site and get them taken care of.
"Rides for Others" is now available nationwide while Lyft "Family" is in the earlier pilot phase in California, Washington, and Oregon.
Sign up here for our daily Thrillist email and subscribe here for our YouTube channel to get your fix of the best in food/drink/fun.
Megan Schaltegger is a staff writer at Thrillist.