Lyft Is Hiking Prices So You'll Pay More for Rides When You Need Them Most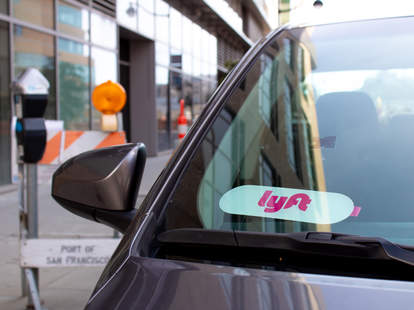 It's late, you've had a big night out, and you're too beat to take the long subway commute back home, so you instinctually whip out your phone to request a Lyft. It's a luxury many of us cave for all too often, but it's one that may soon hit your wallet a bit more than before. The popular ride-hailing service has acknowledged it's raising prices on certain routes in areas where you likely have few other transportation options.
During an earnings conference call on Wednesday, Lyft executives admitted the company began raising prices on certain routes and in select cities back in June, according to a report from Business Insider. The company did not specify which cities or routes this affects, but explained the price adjustments were done "based on cost and demand elasticities." As BI points out, that likely means that it's hiking prices for riders when there are few other transportation options or on routes so in demand that they can afford to lose some riders to fare surges. In other words, expect to pay more for a ride when you're most desperate for one.
"We try to pick routes in cities where the demand impact would be the smallest," said Brian Roberts, Lyft's chief financial officer, during the call. He also explained that Uber is most likely making similar changes to increase how much money it makes off of each rider.
Considering how ubiquitous and popular these services have become, it's hard to see increased prices hurting demand, particularly when there may not be many reliable alternatives to get where you need to be. Though if you're a borderline Lyft addict, you may be able to save some cash by paying upfront for a Lyft All-Access plan.
Or, ya know, you could just suck it up and hitch a ride on the closest subway/bus/train.
h/t Business Insider
Sign up here for our daily Thrillist email and subscribe here for our YouTube channel to get your fix of the best in food/drink/fun.