Lyft Is Giving Away 150,000 Free Rides For When You've Had Too Much to Drink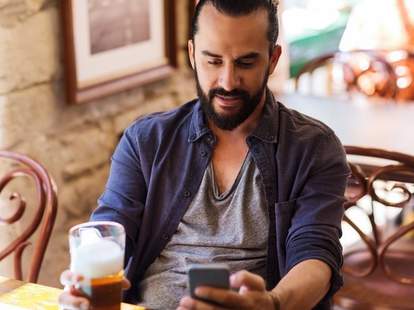 Throughout late 2016, Lyft and Budweiser ran a partnership aimed at keeping drivers off the road when they've had too much to drink. They gave out 35,000 free rides to customers at times when people tend to go out: weekend nights and holidays. You know, Halloween, Thanksgiving, anytime you spend too much time with your family. 
Lyft and Budweiser are bringing the program back with more teeth this fall. The Give A Damn campaign will dole out 150,000 round-trip rides from September 21 through December 31. Last year, the offer was only for one-way trips.
"The whole intent behind [having round-trip fares] is to encourage people to plan ahead," Katja Zastrow, VP of Corporate Social Responsibility & Better World at Anheuser-Busch, tells Thrillist. "We have over 30 years of programs that promote responsible drinking, like the designated driver program. I think that's become a cultural norm, having a designated driver when you go out. But we want to stay relevant to how people are behaving and how they're going out now."
In addition to making fares round trip and adding thousands more free rides, the program is expanding to encapsulate Washington D.C. and nine states, three more than were included last year. Those are New York, Colorado, Illinois, Florida, Massachusetts, Pennsylvania, Missouri, Texas, and Georgia.
Here's how it works: Lyft will give out 10,000 rides per weekend. Anyone interested will need to get a code, and they proved a little tricky to get your hands on last year due to the popularity of totally free rides. The Lyft codes will appear on Thursdays at 2 pm ET on Budweiser's Facebook and Instagram pages. Once the 10,000 vouchers are claimed by adults who are at least 21, they're gone for the week. 
After you drop the code into the app, you have two $10 vouchers. If your round-trip fare is less than $20, congrats. You just got a free ride. However, you can still use the voucher if the trek costs more than $20. You just have to pay the difference. The vouchers can be redeemed between 5 pm and 5 am on Thursday, Friday, and Saturday every weekend.
The codes went quickly last year, so if you see one, get it into your Lyft app ASAP.
Sign up here for our daily Thrillist email, and get your fix of the best in food/drink/fun.
Dustin Nelson is a News Writer with Thrillist. He holds a Guinness World Record but has never met the fingernail lady. Follow him @dlukenelson.