If you've been anxiously awaiting another opportunity to catch some spectacular celestial fireworks, this weekend may be your best bet. The annual Lyrids Meteor shower, which streaks across the sky around the end of April, is expected to peak late tonight and into tomorrow morning, and this year's is slated to be better than usual. 
Recommended Video
Ghost Kitchen: How This NYC Restaurant Is Responding to Coronavirus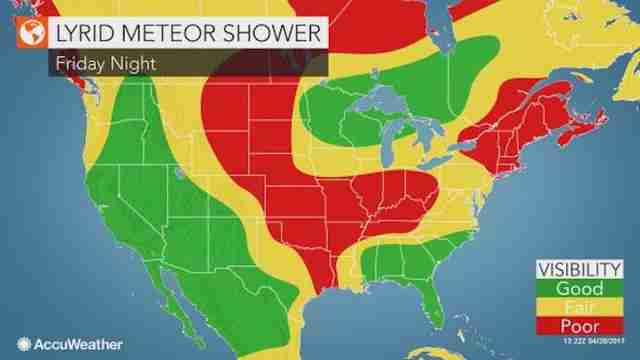 The Lyrids are the trail of particles left in the path of the Comet C/1861 G1 Thatcher, which our planet runs into every April. Amazingly, there are reports of the shower being observed as far back as 2,600 years. Conditions aren't always optimal to see it, as light from the moon can easily interfere with a good view, but this year the shower's peak falls just a few days before the new moon, which means if you can escape enough environmental light pollution, stargazers should be able to catch quite a show.
While the shower can produce as many as 100 meteors an hour, this year's will likely boast an average of 10 to 20, which amounts to one meteor every three or so minutes. According to the American Meteor Society, the Lyrids generally lack a "persistent" trail but can produce dramatic fireballs as they enter the Earth's atmosphere.
Weather and cloud-permitting, prime viewing time is late tonight (April 21) and early tomorrow morning (April 22), with the absolute best action expected just before dawn. While the meteors will originate from the same source (around the constellation Lyra), there's no need to stare in one particular area, as they'll make themselves known all across the sky.
If you miss out tonight, you'll likely have to wait until late October for the Orionid shower to see another display of this quality.
h/t Space.com via Accuweather