Mac & Cheese Donuts Have Arrived to Make Donuts an Every Meal Thing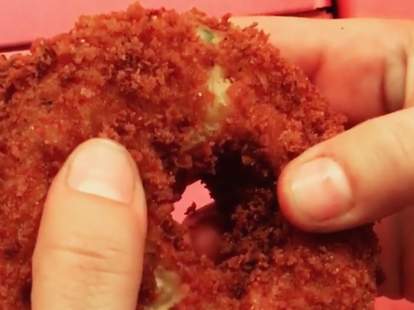 Instagram Screengrab | Glam Doll Donuts
In the summer, it was all about cramming ice cream inside donuts. In the winter, it might be about getting delicious, cheesy, savory foods inside pastries. The mac and cheese donut is here to make those early winter blues... well... it will feed them something heavy and delicious.
Glam Doll Donuts in Minneapolis is celebrating the pending opening of a second location in Northeast by teasing some new creations that will hit the menu for the opening. One of them is a mac and cheese donut.
They posted a drool-inducing video of the monstrosity on Instagram.
If the comments on the video are any indication, everyone is eager to taste the new creations from the pink-clad donut shop.
Glam Doll has a history with these kind of creations, so there's little danger of it not being as delicious as it looks. They have previously created chicken pot pie donuts and have a full brunch donut menu.
The new shop is scheduled to open sometime in December. Tune into their Instagram to find out when the doors are being opened up for a Black Friday-esque run on cheese-filled donuts.
h/t City Pages
Sign up here for our daily Thrillist email, and get your fix of the best in food/drink/fun.
Dustin Nelson is a News Writer with Thrillist. He hopes the Whittier location has these donuts because it'll be easier to walk home after eating a dozen. He's written for Sports Illustrated, Rolling Stone, Men's Journal, The Rumpus, and other digital wonderlands. Follow him @dlukenelson.