Coolest Dad Ever Transformed Kids' Toys Into Badass 'Mad Max' Cars
By now it's a well-established fact that Mad Max: Fury Road is one of the most insane action movies ever made. If there's one thing more insane than the latest Mad Max film, however, it's its insanely impressive lineup of vehicles. They're fast, furious, and they're topped with skulls and fire-slinging guitarists -- even, it appears, 30-something dads with a little imagination.
Inspired by the film, Ian Pfaff, a California father of two, spent some time recreating the cars with his wife Emily for their two children Junior, 2, and Benji, 5 months. With a pair of Little Tykes Cozy Coupes toy cars and a lot of old junk he had lying around, Pfaff transformed his kids' playtime into Furiosa-fueled fun.
When Thrillist asked what compelled him to do such a thing, this is what he had to say for himself: "I saw Road Warrior when I was a kid, and it blew my mind. I saw Fury Road when I was 30, and it blew my mind."
The results of his efforts might just blow your mind too. Here's how he did it.
Benji's ride, a before and after.

| Ian Pfaff
While the cars may look like they've been decked out with iron plating and rusty parts, it's actually all plastic painted to look like the corrugated metal of the Mad Max universe. Everything that he slapped on the cars came from old junk that was lying around -- parts of "old TVs, coffee makers, fax machines, printers," and the like, according to Pfaff. In the photos, the transformations looked so convincing that his friends and family thought the newly improved toys might actually hurt the kids.
"A lot of people are worried about the kids getting tetanus," he said. "Nothing to worry about. It's all plastic, just painted to look like rusty metal."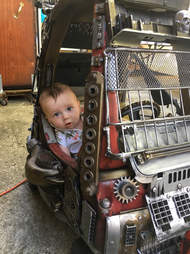 Ian Pfaff
This is Benji, who, it must be said, looks like a total badass.
Ian Pfaff
And this is Junior, Pfaff's oldest, who was actually born the day Fury Road came out, Buzzfeed reports. Clearly a cosmic sign of her own future badassery.
Ian Pfaff
Pfaff, a director in the entertainment industry by trade, has been a fan of the Mad Max films since long before Fury Road came out. "It's hard to top Max's car from Road Warrior," he said.
Ian Pfaff
Emily, Pfaff's wife, made Junior's Mad Max-inspired costume and accessories.
Ian Pfaff
Pfaff told us he has no "official" background in mechanics or engineering, but that, "I just like taking things apart and making stuff out of them." He had a large box of old junk that he often pulls from, he said, sometimes for work on projects like the Funny or Die web series "Space Spring Break," which he created the miniatures for, and sometimes for projects at home.
"I used the last of my junk box to make these cars," he said.
Ian Pfaff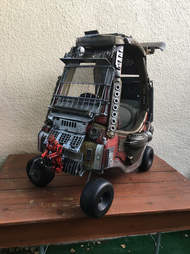 Ian Pfaff
Sign up here for our daily Thrillist email, and get your fix of the best in food/drink/fun.