A 'Mad Pooper' Copycat Is Terrorizing a Neighborhood in Upstate New York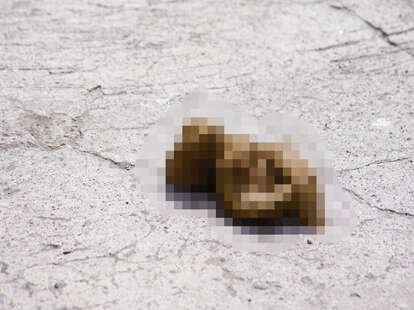 Months after a serial defecator known as the "Mad Poooper" terrorized a sleepy Colorado Springs neighborhood by repeatedly pooping on a family's front lawn, a copycat offender is allegedly doing the exact same thing in upstate New York. Residents of Orchard Park have recently been opening their front doors only to find festering turd nuggets adorning their lawns. Now they're fighting back against the poopy scourge.
A November 26 ad in the Orchard Park Penny Saver aggressively calls out the perpetrator. "To the person/jogger who is pooping on our lawns in the Village of O.P.: STOP!!" the ad reads. The Buffalo News reports that a woman filed a police report on November 8, and according to local law enforcement officials, the culprit has defecated in front of private residences more than once.
Cops also don't have many leads, so the citizens of Orchard Park are taking matters into their own hands, as the ad reads: "We have installed trail cams to identify you!"
Because Orchard Park is the home of the Buffalo Bills, people have had to deal with the occasional rogue poop appearing in a front yard. According to the report: "Orchard Park police occasionally respond to complaints of this nature, but it's usually associated with Buffalo Bills games at New Era Field."
Much like the original Mad Pooper, who rocketed to viral fame in September after leaving a trail of fecal terror in her wake, Orchard Park's pooping jogger faces charges of public lewdness and/or exposure if caught. But let's face it, the culprit is probably more likely to disappear in a fog than face actual jail time.
[h/t Buffalo News via NY Post]
Sign up here for our daily Thrillist email and subscribe here for our YouTube channel to get your fix of the best in food/drink/fun.

Sam Blum is a News Staff Writer for Thrillist. He's also a martial arts and music nerd who appreciates a fine sandwich and cute dogs. Find his clips in The Guardian, Rolling Stone, The A.V. Club and Esquire. He's on Twitter @Blumnessmonster.