Magnum Ice Cream Launches Chocolate-Scented Nail Polishes with Nails.Inc
If the recent Nails.Inc collaboration was too salty for you, maybe this sweeter one will do.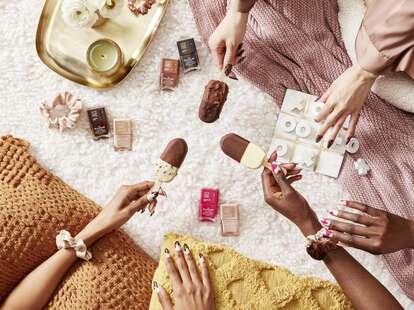 To celebrate the launch of Magnum's Duet Bars, the ice cream brand has partnered with celebrity nail artist Mei Kawajiri to create three trendy nail art designs using the new Nails.Inc polishes to bring the flavors to life.
Magnum ice cream is one of the world's leading ice cream brands, using only the finest premium ingredients, and their Duet Bars are "the first ice cream bars to be dipped in two different types of chocolate." The three new indulgent flavors are Almond, Chocolate, and Cookie.
"As the chocolatiers of ice cream, we're always looking to push the boundaries and release innovative products our ice cream fans crave," said Russel Lilly, general manager of Unilever Ice Cream for North America. "Now, we're excited to give chocolate lovers another way to express themselves, inspired by our iconic Belgian chocolate and designed with everyone in mind."
Inspired by the chocolate layering of the Duet Bars, Magnum ice cream and independent beauty brand Nails.Inc now have three sets of polish duos in various creamy shades that encourage fans to indulge in their own layers through nail art. The six polishes include Glazed Almond and Double Chocolate, White Chocolate and Raspberry Swirl, and Crunchy Cookie and Classic Chocolate.
Fans can recreate Kawajiri's nail designs at home by heading to the Nails.Inc website to purchase the Magnum ice cream chocolate-scented nail polishes and their local freezer aisles to buy the creamy Duet Bars. If you're looking to opt for a more savory-inspired polish, check out Nails.Inc recent collaboration with Velveeta and the new cheese-scented polish.
"As a nail artist, I'm always looking for over-the-top ways to express myself," says Kawajiri. "I love to incorporate sensory experience into my designs, so I was thrilled when Magnum ice cream teamed up with Nails.Inc to create richly pigmented and chocolate-scented polishes—allowing me to showcase my favorite ice cream treats through three creative, unexpected designs."
Fans are invited to Magnum ice cream's Indulgence Studio to create their own #MagnumMoments at pop-ups in three major US cities.
New York City Freehand Hotel – June 24 & 25 (1 pm – 7 pm EDT)
Miami Generator Hotel – July 8 & 9 (2 pm – 8 pm EDT)
Los Angeles Freehand Hotel – July 22 & 23 (1 pm – 7 pm PDT)

Beauty and chocolate lovers can indulge at every turn with the Magnum ice cream dip bar, ice cream-inspired manicures, and Duet Bar sampling. Visit their website for more information about Magnum ice cream's Indulgence Studio.