This Dream Job Will Pay You to Live on a Remote Tropical Island & Sell Books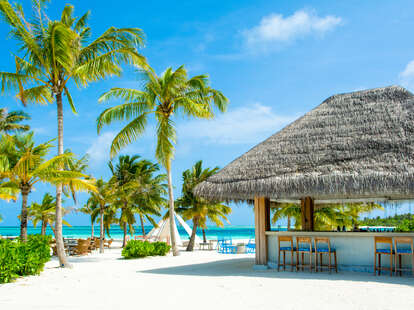 If you've been searching for a chance to flee the country for some place far from the bullhorn of the 24/7 news cycle with a slightly slower pace and tropical temps, then this new and unique opportunity could very well be your dream job. A luxury resort in the Maldives is currently looking to hire someone to help run an on-premises bookshop for its guests -- and will also house them for free nearby.
Beach-loving bookworms, this one's for you.
The gig, which would involve running a tiny bookshop on the property of the five-star Soneva Fushi eco resort on the remote island in the Indian Ocean, sounds like quite the ideal job for bibliophiles looking to get away from it all. More specifically, whoever lands the job will be tasked with helping wealthy guests (frequently celebrities and other VIPs) to find the perfect book(s) to read while on vacation. They'll also be responsible for writing "an entertaining and lively blog that captures the exhausting life of a desert island bookseller" and be able to entertain children with storytelling and host creative writing courses, according to The Guardian. In short, you've got to love books, people, beaches, and writing.
And while the salary is unspecified, it will be meager (or, as it's been described, "derisory"), but then again who needs a six-figure income when your nine-to-five job involves hanging out at a beautiful, tropical island resort matching the mega-rich with great books? Especially if you're not on the hook for rent.
This isn't going to be some podunk mom-and-pop book peddling scheme, either. The hunt for the right person -- who'll first be asked to commit to a three-month stint -- is being led by Philip Blackwell, of the Blackwell's chain of academic bookshops in the United Kingdom. In the years since his family sold the business, he's started the company Ultimate Library, and teamed up with dozens of luxury resorts and cruise ships to help them curate special and extensive library collections for guests. This resort bookshop is the first of its kind for him.
If this sounds like the ultimate getaway you've been dreaming about and you think you have what it takes to run a far-flung bookstore, scope out the Ultimate Library and Soneva Fushi websites, and shoot an email to pb@ultimatelibrary.co.uk.
h/tThe Guardian
Sign up here for our daily Thrillist email and subscribe here for our YouTube channel to get your fix of the best in food/drink/fun.