Incredibly High Man Arrested After He Was Found Filling a Hotel Bathtub With Potatoes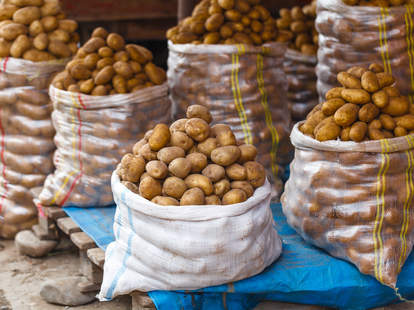 There are plenty of reasons to avoid getting too high. You could end up wasting hours staring blankly at QVC, eat wayyy too much Taco Bell, or find yourself hitching a terrifying ride home with your 92-year-old grandma. Though at least you'll (hopefully) never make the same mistake as a man in England, whose plan to get a little rowdy one night allegedly spiraled into an five-day bender that abruptly ended when... he was arrested while trying to fill a hotel bathtub with raw potatoes. 
You live, you learn, you never get high enough to start potato-tubbing. Or... something like that.
During what was meant to be one wild night out with a couple of friends, 30-year-old James Johnson of Cambridge, England and two friends reportedly ordered roughly $1,000 worth of drugs on the Dark Web and checked into a Travelodge outside Southampton. However, things apparently got out of hand pretty quickly (which, duh, that's a lot of drugs), and four days later, the group was still getting after it at the hotel.
The hotel staff decided to call the cops after smelling "a strong whiff of cannabis" coming from the room. When they showed up, Johnson was allegedly spotted wearing a bra while attempting to fill up the bathtub with potatoes, which authorities would later speculate -- in the understatement of the millennia -- may be what "led officers to believe that he was intoxicated." As for why he did it, Johnson later claimed that "it felt like the right thing to do at the time," and frankly, we're not here to argue.
The cops also discovered a whole grab bag of illegal drugs on the scene including MDMA and the hallucinogens 2CB and 5-MAPB. In fact, they actually found enough to charge him with intent to supply, so it's safe to assume Johnson's potato-tub stunt wasn't simply the product of smoking too much weed, according to a report by Munchies.
Eventually, Johnson pleaded guilty to the charges, and was given an 18-month "community order" and required to go through a nine-month drug rehab program. So, uh, that's at least two more reasons to avoid getting too high.
Be cool out there, y'all.
h/tMunchies, Daily Echo
Sign up here for our daily Thrillist email and subscribe here for our YouTube channel to get your fix of the best in food/drink/fun.