Man Strips Naked in Crowded Gym, Says He Thought It Was 'a Judgement Free Zone'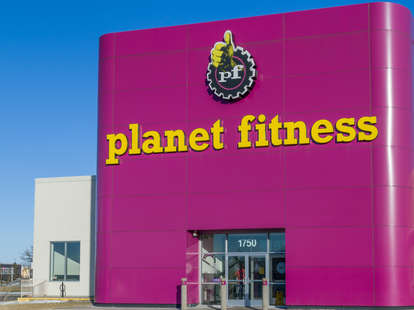 Shutterstock
Shutterstock
There's a certain uninhibited freedom that comes with working out in the nude. However, a Massachusetts man who's apparently well-versed in the meditative qualities of naked yoga quickly learned that clothing is required in all public gyms.
Eric Stagno, 34, joined the weekend warriors at a New Hampshire Planet Fitness on Sunday. But instead of dawning his Lululemons and hitting the elliptical, Stagno took his clothes off and practiced yoga in front of the mirror, reports the Boston Globe. Captain Brett Morgan of the Plaistow, New Hampshire Police recounted Stagno's exuberant day at the gym to reporters, saying:
"He walked into the gym, stripped down at the door, then proceeded to walk back and forth a couple of times before settling in on the yoga mats... When officers arrived, they found him there, completely nude: on his knees in a yoga-type position."
Stagno was charged with indecent exposure/lewdness and disorderly conduct. He's expected to appear in court on September 21, although his body is expected to be clothed as he stands before the law.
When Stagno was confronted by witnesses who said they "felt uncomfortable, disgusted, sick, and unsafe" at the site of his body, per to Captain Morgan, the nudist offered the Randy Marsh defense, saying he "thought [Planet Fitness] was a judgement free zone."
Stagno was apprehended with "some drug paraphernalia in his possession," per the report, but it wasn't immediately clear if he was under the influence while performing his naked yoga flow. In any case, it's probably only a matter of time until the inevitable crowdfunding campaigns for his legal defense to start to appear.
h/t Twitter Moments
Sign up here for our daily Thrillist email and subscribe here for our YouTube channel to get your fix of the best in food/drink/fun.
 
Sam Blum is a News Staff Writer for Thrillist. He's also a martial arts and music nerd who appreciates a fine sandwich and cute dogs. Find his clips in The Guardian, Rolling Stone, The A.V. Club and Esquire. He's on Twitter @Blumnessmonster.