Like a gravity-defying cartoon character, a man named "Steve" — as reported by TV networks — has attempted to scale the outside of Trump Tower in New York using suction cups. Steve, a Virginia native and very agile man, began climbing a little before 3pm on Wednesday, according to accounts on Twitter. He worked at scaling the 58-story building for over two-and-a-half hours as the NYPD attempted to talk him down and block his way. He has to be a complete madman to have tried this at all, but especially because he used no safety equipment at all, not even a helmet.
As the climb continued, the NYPD sawed out a window above the climber hoping to make it impossible for him to continue. He moved to the adjacent building wall, foiling their efforts. They had to knock out another window there. But even that didn't slow his climb. He moved back to the original wall and tried to bypass the open window. 
Recommended Video
This Vegan Pizzeria in Miami Makes the Most Out of the Box Pies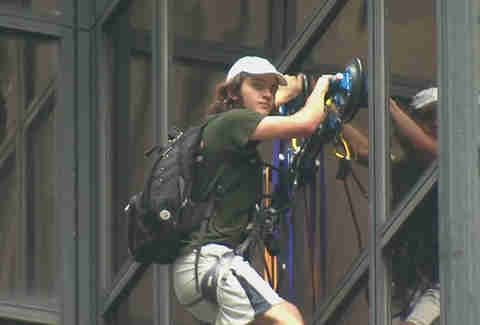 However, that plan didn't work out so well for Steve. Once he was close enough to the police, they hooked a carabiner around the climber and pulled him through the open window.
Though the video has not been confirmed to be the actual climber, Steve appears to have put a video on YouTube in advance of his climb. In the video, he states that he has an "important message" for Donald Trump, who lives in Trump Tower, but was in Florida on Wednesday. He hoped the climb would get Trump's attention and professes to be a Trump supporter.
Multiple channels in New York went with live coverage of his climb for hours. By the end, most broadcasts were starting to sound a little angry, with one CBS broadcaster lamenting the fact "he's tied up traffic [and] news air time."
Steve climbed without any safety equipment at all, so he's not super bright, but he's clearly got some climbing skills. Maybe it's time to consider making suction cup climbing an Olympic sport. Dressage is an Olympic sport, so there isn't much that should be off limits.