This Smooth Man Cutting Steak Is Making the Internet Go Bananas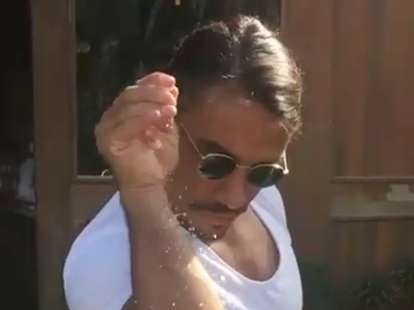 Screengrab Twitter @nusr_ett
This one defies explanation. A short video of a man cutting and salting steak has gone viral. It has been shared repeatedly on almost every platform and the original tweet has more than 18,000 retweets and 29,000 likes.
That's it. There's nothing else to say. It's a guy cutting up a piece of meat. What's caught the attention of the internet is the way he does it and the way he salts that meat. He salts that meat like he's taking it home to meet his mother.
The man making rethink how you react to seeing "a pinch of salt" in a recipe is Nusret Gökçe. With Mithat Erdem, he is half of the Turkish duo who opened the Istanbul steakhouse Nusr-Et in 2010, reports the Independent. They refer to the establishment as a "carnivore's paradise."
The internet has fallen deeply in love with Gökçe and his passion for stylishly salting meat.
This was not Gökçe's first foray into sexy meat cutting on the internet and it is already not his last. He's already got some new cuts he wants to share with you.
Sign up here for our daily Thrillist email, and get your fix of the best in food/drink/fun.
Dustin Nelson is a News Writer with Thrillist. He holds a Guinness World Record but has never met the fingernail lady. He's written for Sports Illustrated, Rolling Stone, Men's Journal, The Rumpus, and other digital wonderlands. Follow him @dlukenelson.