Once Flabby Dude Claims He Got Ripped by Eating a Strict Chipotle Diet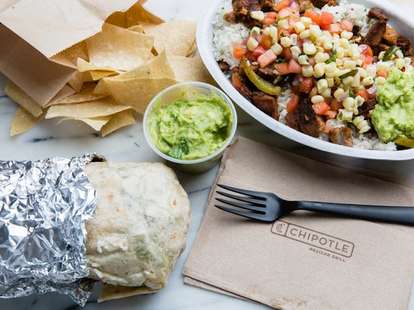 Chipotle has inspired its fair share of diehard loyalists, not unlike a cult might inspire fanatics. There's Bruce Wayne, the batman namesake who wolfed down burritos and bowls for 500 consecutive days. There's also Florida man Tyler Marinelli, who details in a viral Reddit post how Chipotle helped him shed his flabby physique and become an adonis.
In the post, Marinelli explains how he's eaten Chipotle every day this year, coupling the faux-Mexican cuisine with an intermittent fasting routine and frequent exercise. Obviously, Chipotle wasn't the only thing he ate; he allowed himself egg whites, almonds, cottage cheese, and fat-free greek yogurt in addition to Chipotle. He took his meals between 1pm and 9pm, and probably hallucinated about food when abstaining from more sustenance. Obviously, his Chipotle regimen wasn't that outlandish, as he only ate burrito bowls with chicken and rice.
But the result is a shredded dude, who takes bathroom selfies:
In total, Marinelli lost 20 pounds under his diet, shedding 8% of his body fat in the process. Talking to Men's Health, the 26 year-old explains what his gastronomic tendencies used to be like, now that he's gotten his groove back:
"I would eat whatever I wanted, whenever I wanted, and however much of it I wanted," he said in an email to the magazine. "I'm talking two Domino's pizzas in one sitting."
In his post, Marinelli also details his scrupulous exercise schedule, which would make any protein-guzzling gym-rat blush. He writes, when it comes to weightlifting, that the "first set is always the heaviest."
Let this be a reminder that fast food restaurants can help you achieve your dreams... if you adhere to a strict schedule of intermittent fasting and protein and decamp for your local weight room for four months.
Sign up here for our daily Thrillist email and subscribe here for our YouTube channel to get your fix of the best in food/drink/fun.
 
Sam Blum is a News Staff Writer for Thrillist. He's also a martial arts and music nerd who appreciates a fine sandwich and cute dogs. Find his clips in The Guardian, Rolling Stone, The A.V. Club and Esquire. He's on Twitter @Blumnessmonster.