Man Falls 70 Feet Into Hawaiian Volcano Caldera After Crossing Safety Barrier
Embracing curiosity is important when you're traveling, since it can push you into seeing and doing things you might not otherwise...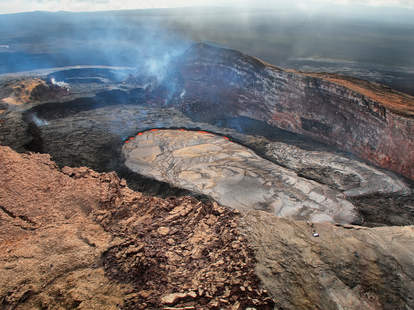 Embracing curiosity is important when you're traveling, since it can push you to see and do things you might not otherwise. That said, maybe rein it in a bit more than one dude in Hawaii did, when he decided to cross a safety barrier along the rim of the Kilauea volcano for a better view and fell 70 feet into its caldera.
A man exploring the Hawaii Volcanoes National Park on Wednesday evening made the unwise decision to pass over a safety barrier near the Overlook Bluff area to get a better look at the Kilauea volcano's caldera -- the cauldron-shaped crater on a volcano that forms after an eruption -- only to lose his footing and drop off a 300-foot cliff. Incredibly, a narrow ledge 70 feet down broke his fall and he miraculously survived, according to ABC News. 
Kilauea volcano crater rim

| Shutterstock
Fortunately, the man was with a group at the time, so the accident was reported immediately and rescue crews were quickly deployed. They managed to reach him a couple hours later with ropes and a helicopter, and airlifted him to a nearby medical center. It's unclear how badly he was injured, but authorities classified his injuries as "serious," according to a spokesperson for the National Park Service.
The Kilauea caldera is a popular sightseeing destination on the island of Hawaii. However, authorities at Hawaii Volcanoes National Park adamantly insist that visitors should never go beyond roped off areas.
"Visitors should never cross safety barriers, especially around dangerous and destabilized cliff edges," Chief Ranger John Broward said in a statement following the incident, per ABC News. "Crossing safety barriers and entering closed areas can result in serious injuries and death."
There's no word yet on whether the unidentified injured man will face charges for his actions, though rangers will reportedly conduct an investigation to determine if he should.
h/tCNN

Sign up here for our daily Thrillist email and subscribe here for our YouTube channel to get your fix of the best in food/drink/fun.