Some Guy Just Put This 6-Year-Old McDonald's Burger & Fries on eBay for $29.99
eBay is great when you're trying to get your hands on a rare pair of sneakers or want to offload some old collectibles, but would you ever consider using it to sell a McDonald's burger and fries you bought six years ago and never ate? Follow-up question: why the hell would you hang onto a Mickey D's burger and fries for six long years in the first place?
To get an answer to either of those queries you'll have to ask a dude named Dave Alexander, who recently put a pair of, um, vintage fast food items he purchased in 2012 up for auction online.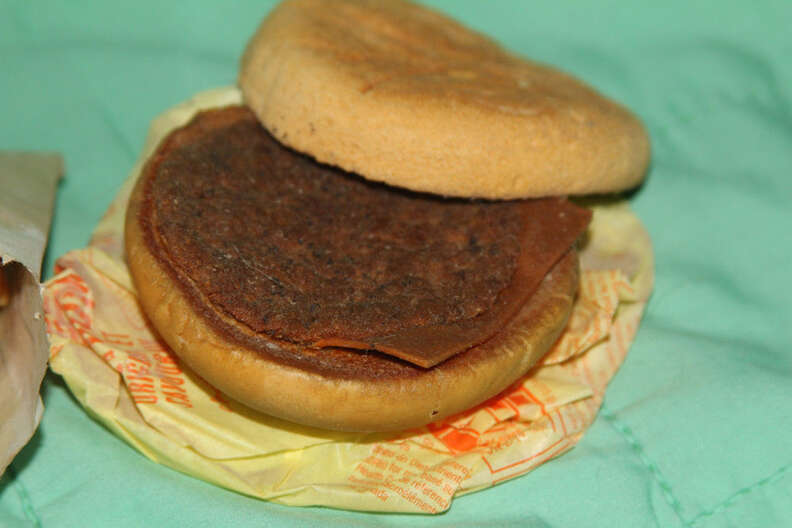 If you've always dreamed of owning an old-ass value meal from the Golden Arches that is "surprisingly decent looking still," Dave Alexander, a farmer in rural Ontario, Canada, can hook you up... for a price. He just listed a six year-old plain cheeseburger and order of fries he bought from a local outpost of the fast food mega-chain on eBay, with a starting bid of $29.99.
While the product description doesn't come with any explanation regarding the food's aroma, it does include a handful of photos -- with their original wrappers -- and it looks remarkably well-preserved. If you're convinced this is all just some big joke, the description would very much like you to know it is not.
"This is no joke. This is a legitimate, very real McDonald's Cheeseburger & Fries that we bought in London, Ontario Canada on June 7, 2012," the description reads in bold type. You can also rest easy knowing it hasn't been in possession of anyone else, as the description also makes quite clear: "ORIGINAL OWNER - Never eaten."
You may be wondering why one would ever buy a second-hand fast food six years expired. Well, Alexander provides a few ideas, suggesting you'd be helping to further scientific research by witnessing "the cheeseburger & fries that just won't die." In fact, he originally bought them as an experiment to see how long they would hold up, and is now offering them up only because he's downsizing homes and doesn't have room to keep it.
"It basically has petrified itself. It looks very sellable," he said in an interview with CBC radio. "I'm going to assume that someone's going to rehome my cheeseburger."
It does indeed seem to be very sellable. As of this writing the current bid has reached $82 with a little over six days left in the auction.
h/tCBC
Sign up here for our daily Thrillist email and subscribe here for our YouTube channel to get your fix of the best in food/drink/fun.