This Genius Tweeted at KFC For a Year Until They Brought Back His Favorite Menu Item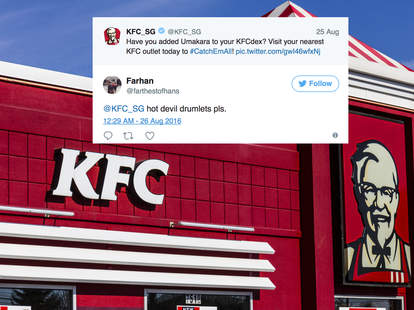 The squeaky wheel gets the grease, and the obnoxious Tweeter gets... his favorite KFC drumstick back? The latter may not become the go-to proverb anytime soon, but it holds true at least for one lucky fan of the fried chicken chain, whose persistent begging on social media to bring back a certain menu item he loved prompted KFC to do just that.
Twitter user Farthestofhans -- who lives in Singapore and goes by the name Farhan -- was sincerely upset when KFC decided to pull his favorite food item, Hot Devil Drumsticks, from its menu in the country in 2014. But rather than quietly adjust to a spicy mini drumstick-less life, he decided to do something about it, and took to Twitter, repeatedly responding to the KFC corporate account with clever messages begging for the return of his beloved Hot Devil Drumsticks. He didn't give up, either -- he kept the campaign going for an entire year. 
im hangry coz you guys wont bring back the Hot Devil Drumlets.

— Farhan (@farthestofhans) October 20, 2016
His persistence paid off. This past week, KFC sent him a direct message acknowledging that it had seen his Tweets, and told him that Hot Devil Drumsticks are coming back to KFC in Singapore. Even better, they want him to be the first person in the country to taste them, so they're sending him a box full of drumlets ahead of the island-wide launch next week.  
I'd rather paint my fingers with hot devil drumlets' powder residue..mmmmm

— Farhan (@farthestofhans) October 4, 2016
At first, Farhan thought it was just his friends messing with him, but quickly realized the offer was legit. "My first reaction [to this was] nah, this has to be fake...because my close friends know I love fried chicken," he told Mashable in an interview.
u know what's too good to be true? the return of hot devil drumlets

— Farhan (@farthestofhans) December 19, 2016
Let this be a lesson to savvy social media users everywhere: you'll never get what you don't ask for... and ask for, and keep asking for until you wear down whatever poor sap runs the corporate Twitter account.
h/tMashable
Sign up here for our daily Thrillist email and subscribe here for our YouTube channel to get your fix of the best in food/drink/fun.