Mapping America's Scary Clown-in-the-Woods Epidemic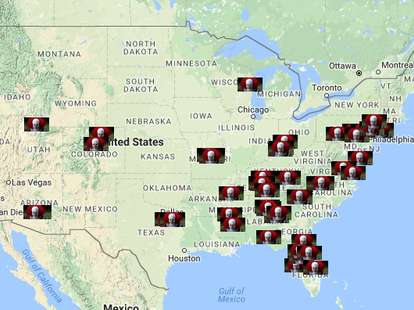 Clowns are scary. At least some are and a remake of Stephen King's It isn't going to help reduce the collective number of clown-induced nightmares. But recently scary clowns have been sighted across the U.S. They've been seen standing on the edge of roads or in the woods reportedly trying to lure people to another location for what are surely nefarious purposes. (Remember: Never go to a second location with a clown.)
It all started Aug. 20 in Greenville, South Carolina near the Fleetwood Manor Apartments (or earlier in August, if you count the "Gags" the Clown sightings in Wisconsin that wound up being a marketing campaign). That was followed by more reports in the area of creepy clowns trying to lure children into the woods. Days after that, there was a sighting in Columbus, Ohio. Then one in Winston-Salem, North Carolina. And while no one has proven that the rash of clown sightings are fake, there has yet to be a single shred of evidence otherwise. There's no smoking barrel with suspenders, no oversized shoe caught in a fence, or red curly hair draped over a sapling on the edge of the woods.
Nonetheless, clowns are frightening and the reports of clown sightings continue to roll in. If you believe that the truth is out there and want to gumshoe your way to the bottom of America's clown epidemic, there's now a map that will help you get going.
Mashable has created a map that shows where in America (and, recently, the U.K.) there have been creepy clown sightings, with each sighting denoted by a lovely Pennywise icon.
Though, in reality, the clown sightings are not something worth being concerned about based on most reports. Social media and the ease with which this kind of thing can be faked feeds what likely amounts to a real-time urban legend mixed in with some kids imitating the reports and showing up to school dressed as creepy clowns. Many photos, like the images in the tweet below, of "real sightings" have spread quickly across social media despite having been proven to be false.
It's not just bogus pictures, there are false stories pushing the notion that these clown sightings are real and something to fear. One story claims that the clown situation is so dire that Canada will start fining anyone seen in a clown outfit. Though that would be a logical result of an earlier hoax story that claimed Americans dressed as clowns went to Canada and murdered 23 people. Likewise, stories claiming that fear of clowns in America has led to people attacking anyonedressed as a clown are also fake.
But if you believe it, well, the truth is out there. Or maybe it's in your nightmares. Either way, the truth is somewhere and this map is going to help you get to the bottom of it.
Sign up here for our daily Thrillist email, and get your fix of the best in food/drink/fun.