This Map Shows the Most Obscene Place Names Around the World
From Cooter, Missouri to Felchville, Massachusetts, the United States is proudly home to several hilariously lewd town names. But if snickering at places like Dickshooter, Idaho or Sugar Tit, South Carolina isn't enough for you, there's actually a beautiful world map showing some of the funniest and rudest place names all across the globe.
It's called the Magnificently Rude Map of World Place Names and it gloriously features more than 200 of the world's most bizarre and delightfully obscene place names, including Anus, Philippines, Bullshit Hill in Australia, and one of the best by far, Tickle Cock Bridge in the UK. Mapmakers Strumpshaw, Tincleton & Giggleswick claim all the names on the vintage-style map are truly real-life places, compiled purely for the purpose of making people laugh. Oh, and let's not forget Fucking, Austria.
"From the Bums of Afghanistan and the Twatts of Britain, to the Knobs of Australia and a pair of Tits in Algeria, via a Brazilian Varginha and a Philippine Sexmoan, the world is strewn with rude, lewd and innuendo-laden place names," the mapmakers explain the maps official description. Not convinced? Just take a look at these sample sections from North America, Europe, and Australia: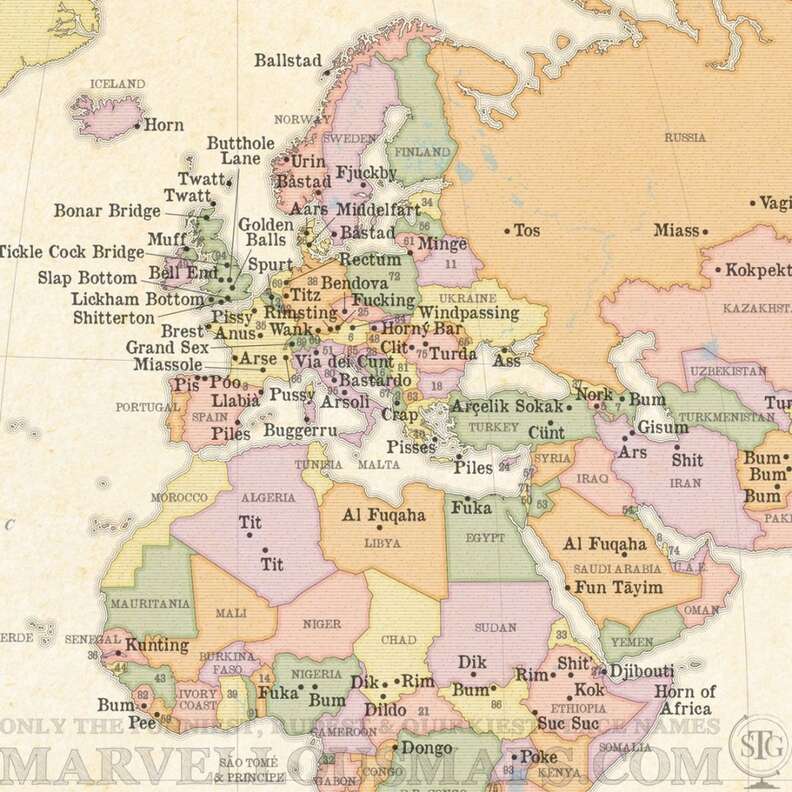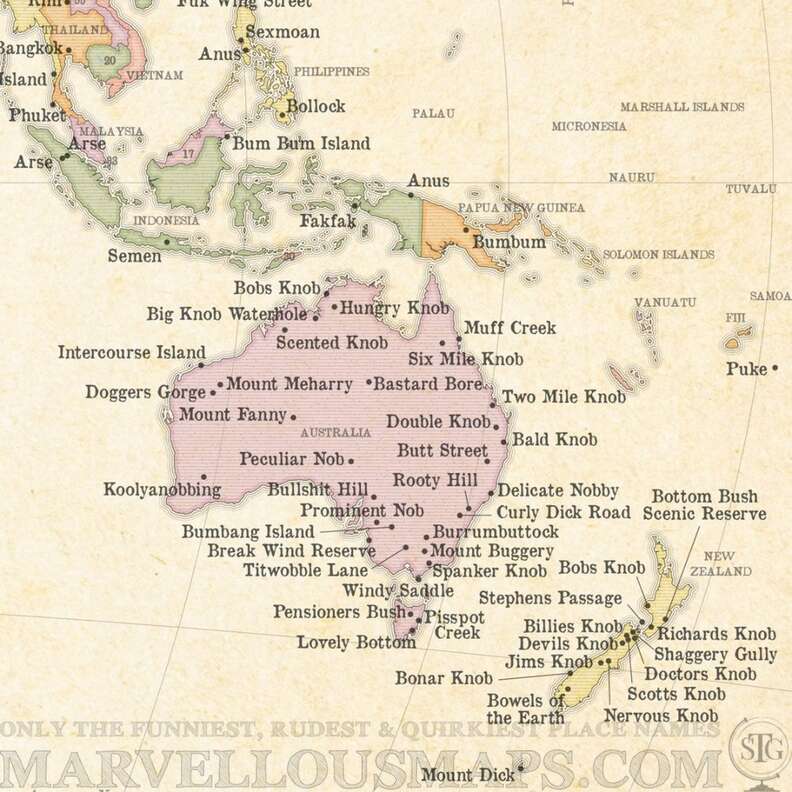 The map measures about 11.7in by 16.5in and is currently available via Strumpshaw, Tincleton & Giggleswick's online store for £18.00 (approximately $22.35). The cheeky mapmakers also offer a separate and significantly more comprehensive map of rude place names across the United States for £28.00 (approximately $35.75).
If you're so inclined, the words "Intercourse Island," "Butt Street," and "Cat's Dingleberries" will proudly be displayed on your wall in no time.
h/t Mashable
Sign up here for our daily Thrillist email, and get your fix of the best in food/drink/fun.
Tony Merevick is Cities News Editor at Thrillist and personally enjoys the place called Tickle Cock Bridge in the UK. Send news tips to news@thrillist.com and follow him on Twitter @tonymerevick.