Designer Marc Jacobs Just Got Engaged at Chipotle With the Help of a Flash Mob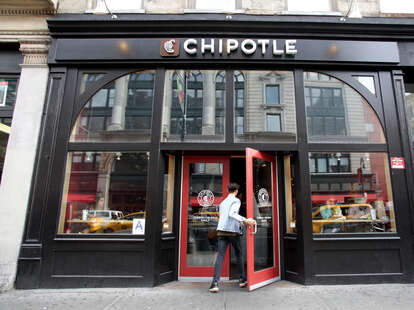 Chipotle is a great place to grab lunch, dinner, or, hell, even a mid-afternoon guacamole fix. But is it the sort of romantic setting befitting of a dramatic marriage proposal? Fashion designer Marc Jacobs evidently thought so, because he popped the question to his boyfriend in one of the chain's outposts with the help of a very enthusiastic flash mob. Fortunately, it was all caught on camera.
On Wednesday night, the renowned fashion designer dropped by a Chipotle location in New York City with his longtime boyfriend, Char Defrancesco, for what Defrancesco assumed was a bite to eat. However, in the middle of their meal, a dozen or so other customers in the fast-casual eatery revealed themselves as a flash mob, and began dancing in formation to the Prince hit "Kiss," which was blasting through the sound system. With Defancesco distracted, Jacobs got down on one knee and proposed. After Defrancesco quickly accepted, the whole crowd erupted in cheers.
It was a cute moment that was totally orchestrated and filmed with the help of a creative services studio Jacobs hired, which quickly edited the footage it captured together into a video that each of the new fiancés posted on their social media accounts.
The proposal also got the official Chipotle seal of approval, as the company's official Twitter account shared a congratulatory post about it on Thursday morning.
Details regarding the impending nuptials have not been revealed, and it's also unclear whether guacamole will be on the wedding registry, but cheers to the Chipotle-loving couple, whose love will hopefully never be interrupted by any burrito-borne illness.
h/tPeople
Sign up here for our daily Thrillist email and subscribe here for our YouTube channel to get your fix of the best in food/drink/fun.