Following the tragic shooting at Marjory Stoneman Douglas High School in Parkland, Florida last month, the student survivors have worked tirelessly to get a mass gun control movement off the ground. And they've managed to do just that.
On Saturday, March 24, the March for Our Lives is set to kick off in Washington, DC, with thousands of people expected to descend on the nation's capital in support of stricter gun laws, and an end to gun violence and mass shootings. There are also some 700 other satellite marches scheduled to take place this weekend across the country, including major events planned in New York, Miami, Chicago, Los Angeles, and San Francisco. Many expect it to be the largest single-day protest since the Women's March in January.
People will be toting posters with pro-gun control messages of all kinds, from pointed criticism of politicians and the NRA, to calls for stricter background checks and safer schools. And while it doesn't take much to make a poster, figuring out what to say on one can be incredibly tough. So, if you're planning to attend a march and still aren't sure what you want your poster to say, we've collected some standout ideas (below) that may help inspire you.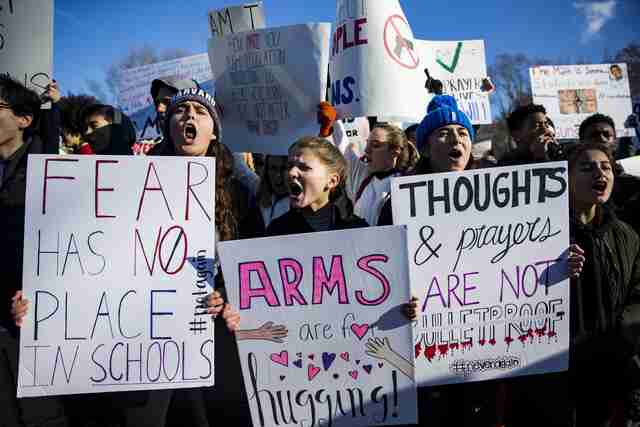 Powerful March for Our Lives Poster Ideas
The student activists at Marjory Stoneman High School who helped set off this movement have delivered some incredibly powerful messages in the weeks since the tragic shooting. In many ways, those messages have helped others distill their own positions on the scorn of gun violence that plagues America. If you're hoping to send a powerful message that will stand out among a sea of others, here are some poster ideas to consider:
"Hunting season is over."
"Fear has no place in our schools."
"This is not a moment, it's a movement."
"Not one more."
"1 child is worth more than all the guns on earth."
"Respect my existence or expect my resistance."
"Pray, mourn, repeat."
"The time to change was yesterday."
"Did you know? 46 kids are shot every day in the U.S."
"People over profit."
"Lives over bribes."
"Schools are for leaning not lockdowns."
"21st Century weapons, 18th Century laws."
"How loud do the screams have to be before you listen?"
"I thought you were pro-life."
"This is not a drill."
"Why is my body more policed than a gun?"
"This is not normal."
"Game over NRA."
"Thoughts and prayers are not bulletproof."
Clever March for Our Lives Poster Ideas
Obviously, there's nothing funny about what happened in Parkland, or about gun violence in general. However, sometimes the best way to get your point across is with a tinge of humor or play on words. With that in mind, here are some creative ways to let your message be heard with a little levity:
"The only thing that stops a bad guy with a gun is a student with a poster."
"There are better ways to reduce class size."
"We don't need more guns. We need more votes!"
"2020 voter."
"Girls' clothing in school is more regulated than guns in America."
"They tried to bury us. They didn't know we were seeds."
"Someone explain why a 19-year-old can buy an AR-15, but not rent a car."
"You can't fix stupid but you can vote it out."
"Your gun doesn't make your dick look bigger, if makes you look like a bigger dick."
"As a girl I hope to have as many rights as a gun someday."
"My outrage can't fit on this sign."
"Your gun ownership is hazardous to my health!"
"In America the only thing easier to buy than a gun is a republican."
"No more guns, that sounds fun!"
"Arms are for hugging."
"This isn't right or left, it's life or death!"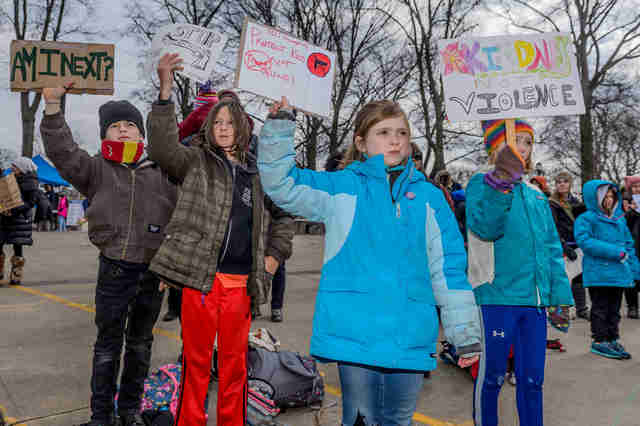 March for Our Lives Poster Ideas for Kids
The march will surely bring out people of all ages and backgrounds, and as with many demonstrations of this nature, lots of parents will likely bring their little kids. Frankly, sometimes the most passionate people at a rally end up being the youngest ones there. If you plan to go with kids, consider helping them make a poster with one of these messages:
"Am I next?"
"Love your kids. Not your guns."
"We have a right to live."
"My parents vote for my life over your guns."
"Please be nice."
"It's time for a change (and I'm not talking about my diaper)."
"I support school walk-outs (and I can't even walk)."
"No to concealed carrying, yes to baby carrying."
Sign up here for our daily Thrillist email and subscribe here for our YouTube channel to get your fix of the best in food/drink/fun.