This Margaritaville Booze Cruise Is Setting Sail All Summer Long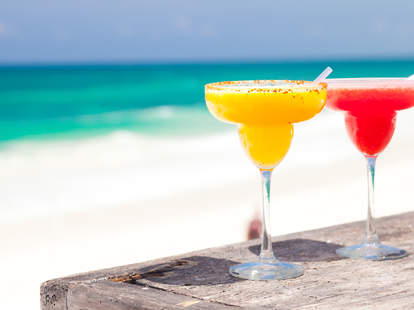 Your inner parrothead, the voice telling you to buy Tommy Bahama shirts and to throw luaus in mid-December, has more reason to worship at the sandy altar of Jimmy Buffett. After licensing his venerable Margaritaville franchise to retirement homes, casinos, hotels, restaurants, and more, Buffett's empire is now stretching into the frontier of booze cruises. No lime has been left unsqueezed in the soft-rocker's pursuit of getting stupidly rich.  
Margaritaville at Lanier Islands in Buford, Georgia is hosting two cruises every weekend this summer, replete with all of the Buffett-inspired trappings you need to effectively waste away. The first is onboard The LandShark, where Buffet-acolytes can pay tribute to their cult hero with offerings of eight specialty margaritas on the menu for $80. The LandShark sets sail at 5pm for three hours every Saturday, and there's going to be plenty of food, too, with offerings of a "full nacho bar, peel-and-eat shrimp, BBQ sliders," according to the resort's website. 
Here's the LandShark in all of its kitschy glory:
Sundays are a little more mellow, because even Buffet understands that the sun sets on all fiestas. To round out the weekend, you can board the Margaritaville boat for pairings of appetizers and wine for $70. It also departs at 5pm and charts a leisurely course until 8pm, the natural bedtime for anyone who's drank in the sun for three hours.
The cruises kick off this Saturday on the largest faux-holiday of the year, Cinco de Mayo, and last until the end of October.
h/t Delish
Sign up here for our daily Thrillist email and subscribe here for our YouTube channel to get your fix of the best in food/drink/fun.
 
Sam Blum is a News Staff Writer for Thrillist. He's also a martial arts and music nerd who appreciates a fine sandwich and cute dogs. Find his clips in The Guardian, Rolling Stone, The A.V. Club and Esquire. He's on Twitter @Blumnessmonster.