You Can Buy Weed-Infused Gravy & Thanksgiving Will Be Way More Interesting
You know how Thanksgiving dinner is best known for dry turkey and verbal jousting with your extended family? If you'd rather decide what late 80s/early 90s band best represents each part of the Thanksgiving spread, there's a Thanksgiving-themed marijuana edible for that. It'll have you expounding on why cranberry sauce is the Butthole Surfers of the table. You know, it's underappreciated and some people will say they like it but they only want a dab of it and that dab is probably "Pepper"?
Kiva Confections, a cannabis edible company, just unveiled a turkey gravy. No, they're not branching out into the grocery store aisle. It's an edible. It's pot gravy. Uncle Richard's going to be super chill at dinner this year.
The limited-edition gravy is part of an upcoming line that's meant to showcase a new technology the brand is introducing. "The fast-acting edibles bypass the notoriously lengthy trip through the liver," the company wrote in its announcement, "and is instead absorbed into the soft tissue and stomach allowing the cannabinoids to take effect in two to 15 minutes, versus traditional edibles' typical onset of 90 minutes or longer."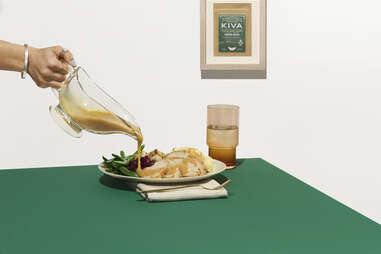 Each gravy packet contains 10mg of THC and will fill your boat for just $5. Here's the bad news, because this is obviously too good to be true. Weed gravy is only available in California. You'll find it at Sweet Flower dispensaries in southern California and Grassroots in San Francisco in pretty limited quantities.
One of the next in the line of holiday-themed goodies is going to be hot chocolate. That probably means we're only a year away from seeing marijuana advent calendars in states where that kind of thing flies.
Sign up here for our daily Thrillist email and subscribe here for our YouTube channel to get your fix of the best in food/drink/fun.