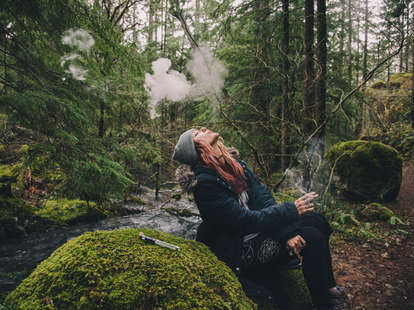 Canna Obscura/Shutterstock
This job might be right up your alley if you're squinting at the screen like Jim Breuer in Half Baked and thinking, "Man, I'd do that for free."
A marijuana review site, AmericanMarijuana.org, is looking to hire a reviewer. You can imagine that there are perks that come with the gig. The position pays up to $36,000 a year and free samples, including "weed strains, vapes, edibles," and CBD oils, are absolutely part of the job.
It's not just some free cash and grass, though. The company wants someone who "can smoke" and has "extensive knowledge" around the marijuana market. Also, of course, you'll have to live in Canada or one of the select US states where the drug is currently legal.
Though, don't expect insurance or other perks of a normal full-time job. You'll be considered an independent contractor. However, $3,000 per month could make for a lucrative side gig. "This job is 100 percent for real, and it's an important job that includes more than just getting paid to smoke weed," the job description attests. "If you think that's the entire scope of the job, then this might not be for you."
It continues to say that it wants someone who can "give our readers honest and reliable insights on various cannabis products."
Editor in Chief Dwight K. Blake tells Thrillist that the company has received more than 3,000 applications over the last 48 hours. So, there's going to be a little competition. But don't get too full of yourself. There's a car floating in space that should remind you not to underestimate someone just because they've had a little pot.
Sign up here for our daily Thrillist email and subscribe here for our YouTube channel to get your fix of the best in food/drink/fun.