Behind an unremarkable facade in Ireland lurks the quite remarkable abode of a serious Marilyn Monroe fan. It's not someone who owns a Monroe poster and has seen The Seven Year Itch 37 times. This is a super fan. This is a person for whom the shortened noun is not enough. This is a fanatic. 
The 1,120-square foot home is on the market in Dublin. It's going to take a very specific kind of person to move into this technicolor wonderland where it appears pop art exploded across every visible surface. 
Recommended Video
Ghost Kitchen: How This NYC Restaurant Is Responding to Coronavirus
The three-bedroom home is covered floor to ceiling in the visage of the late actress. Where you don't see Monroe's face, the house goes in hard on the pop art-inspired color palette. It's a maximalist way of decorating for the person who is always thinking, That's a great chair/floor/wall/house/human, except it'd be better if Marilyn Monroe's face was on it. 
Oh, except the bathroom. No Monroe to be found there. Putting a picture of her in the bathroom would be crazy. Also, it'd be crazy to just put her face everywhere. How about two James Dean throw pillows? There. That's better.
From the leopard prints in the living room to the purple-hued sitting room adorned on one side with Monroe's most famous photographs, the owner was not messing around with the decor.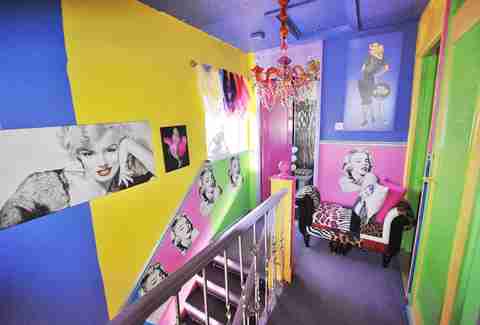 If you're just scouring the market for a new pad, the roughly $200,000 price tag (€185,000) might make you balk. However, if you're a Monroe super fan you aren't likely to find too many houses with this particular flavor. 
The listing from Ray Cooke Auctioneers calls it "quirky," which is a criminal understatement. "The house never intended to attract the media hype that we have received, so the original plan was to remove all items," senior sales and lettings negotiator Ross McHugh told Thrillist. "A number of interested parties are targeting it 'as seen' with everything in tact. Many Marilyn fans worldwide have been in contact."