Even a Supreme Court Justice Fell for the Mark Zuckerberg Facebook Hoax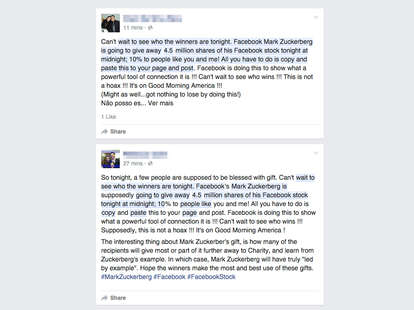 Facebook screenshot
Facebook screenshot
At this point, a Facebook hoax is nothing new -- they're the 2015 equivalent of a chain email, which was the 2005 equivalent of a chain letter. Somewhere along the line, there were probably chain cave paintings. In any case, here's the commonality: anybody who shares these things is a complete dunderhead.
A few days ago, my own cousin copied and pasted a message to his Facebook wall saying how Mark Zuckerberg was giving away 4.5 million shares of Facebook stock to some lucky winners on Facebook. All you had to do was repost that message. But what made this one legit: it ended with "IT'S NOT A HOAX! IT'S ON GOOD MORNING AMERICA!"
Well, shit. If ever there were a way to confirm veracity, it's by striking down the haters and latching to GMA. GMA WOULDN'T LIE TO US. Here's an example.
The entirety of the post has countless variations already, but the crux reads pretty much the same: "Can't wait to see who the winners are tonight. Facebook Mark Zuckerberg is going to give away 4.5 million shares of his Facebook stock tonight at midnight; 10% to people like you and me! All you have to do is copy and paste this to your page and post. Facebook is doing this to show what a powerful tool of connection it is !!! Can't wait to see who wins !!! This is not a hoax !!! It's on Good Morning America!!! Worth a shot!"
Fortunate for my cousin, he's since deleted his post; otherwise, he'd be a featured embed in this article. And, for what it's worth GMA never did a story on the Facebook millionaire sweepstakes -- not even to debunk it -- aside from its original report on Zuckerberg's pledge to donate his $45 billion wealth to charity a few weeks back. It's nothing more than proof that people are gullible and want to get rich by as little work as possible. Even if it potentially exposes a lack of firing neurons between their ears.
But this hoax has a cherry on top: even an alleged Supreme Court justice fell for it. Not the Supreme Court Supreme Court, mind you, but the Supreme Court of Ohio. It isn't quite the same thing, but still. This man is entrusted with adjudicating major cases for one of the most populous states (and the one I grew up in!).
A mutual friend alerted me to the post, which is only visible to those who are Facebook friends with Bill O'Brien. The account isn't verified, but it does list him as a Justice at the Supreme Court of Ohio. Thrillist reached out to Justice O'Brien to comment, but he did not reply as of this article's publishing.
Conceivably, Justice O'Brien may not have posted and defended this. But if he did, he's well within his rights. Because what are we as Americans, if not free to post dumb shit on social media on the off chance we become millionaires.

Sign up here for our daily Thrillist email, and get your fix of the best in food/drink/fun.
Ryan Craggs is Thrillist's Senior News Editor. It's worth a shot! Follow him @ryanrcraggs.