Courtyard Marriott Will Pay You $7,500 to Travel the World and Go to Football Games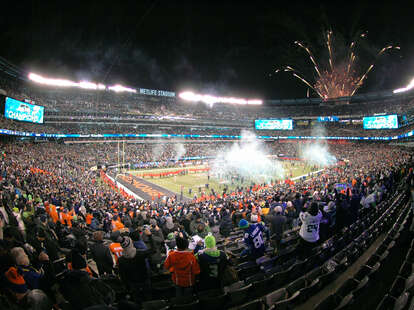 When football season rolls around, fans generally divide into two groups: those who casually tune into games every week and those who go whole hog with multiple fantasy teams and rabidly follow the stats of every player in the league. And now, for those who consider themselves in the latter camp, there's a chance you can get paid to indulge in your football obsession: Courtyard by Marriott is hiring a correspondent to follow this NFL season from the front lines by attending games around the world.
The gig, which comes with the title of Courtyard NFL Global Correspondent, is essentially the job of a lifetime for anyone who loves both world travel and NFL fandom. If you land the job, you'll get to spend the entire season "uncovering unique and interesting stories of NFL fan passion on the ground" during four games in Minneapolis, Mexico City, London, and even the Super Bowl in Atlanta. And not only does it come with gratis up-close access to games, but all travel is fully covered, and the lucky job-holder will also earn a cool $7,500 for their efforts.
While Courtyard has long been an NFL partner, this is the first time it's offering this opportunity to a lucky fan. However, it isn't really a gig for a casual spectator, and you'll need to know a whole lot more than just the difference between a fumble and field goal. They're looking for someone who not only has a deep knowledge of the game, but is also comfortable in front of the camera, since much of the content they'll be producing will be photo and video-driven. Beyond that, there are a few other qualifications worth noting, including an ability to "engage an audience both online and in-person" and membership in either the Marriott Rewards or SPG loyalty program. Also, you'll need to have a flexible schedule and be able to travel to games on October 28, November 4, November 19, and February 3, 2019.
To throw your hat in the ring, fill out the online form by 11:59pm September 23 and submit a 60-second video that highlights your NFL expertise and passion for the game. The winner will be announced on October 16, and kick off their fledgling new correspondent career shortly thereafter.
Then again, if you don't get picked, this season doesn't have to be a total bust, especially if you know where to find the best places to eat in every NFL stadium are.
Sign up here for our daily Thrillist email and subscribe here for our YouTube channel to get your fix of the best in food/drink/fun.