Two things that'll wake just about anybody up: a strong coffee brewed at Starbucks, and reliving the literally Earth-shaking "Beast Mode" touchdown Marshawn Lynch scored back in 2011. And now, you can combine the two.
The Seattle Seahawks running back has teamed up with the Seattle coffee giant to create a limited edition Frappuccino, and it's fittingly called "Beast Mode," because duh. Starbucks said the drink is "as unique as its creator," and described the coffee concoction as a double mocha Frappuccino with hints of mint and cream that's loaded with protein powder and then topped with whipped cream, purple berry drizzle, and even a sprinkle of matcha green tea powder. It probably tastes like victory. 
Beverage sales benefit Marshawn Lynch's Fam 1st Family Foundation.Learn more at http://shwks.com/zb68
Posted by Seattle Seahawks on Tuesday, October 20, 2015
"I'd drink this before a workout," Lynch said while sampling iterations of the beverage, per a Starbucks press release. "You could get your buff on with this."
Recommended Video
The 2019 Beer and Bacon Classic Is Coming to NYC!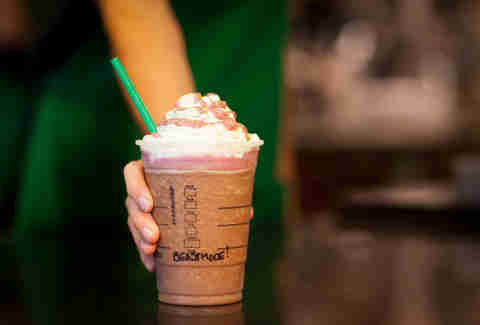 ​The beastly (in a good way) blended coffee drink will go on sale Thursday, October 22nd at participating Starbucks stores and will be available throughout football season in Washington state and Oakland, CA stores. The company said it will donate 24 cents (up to $100,000) from every "Beast Mode" sold to Fam 1st Family Foundation, the charity Lynch cofounded in 2011 with Buffalo Bills quarterback Joshua Johnson to support underprivileged youth.
Just imagine walking up to the counter and saying, "Can I have a venti 'Beast Mode?'" Sounds like a helluva way to kickstart your morning -- and for a good cause.
Sign up here for our daily Thrillist email, and get your fix of the best in food/drink/fun.
Tony Merevick is Cities News Editor at Thrillist and experiences a different kind of "beast mode" in the time that he's awake before his first cup of coffee. Beware. Also, send news tips to news@thrillist.com and follow him on Twitter @tonymerevick.