Here's How You Can Spend the Night on Martha Stewart's New York Farm
You'll get the chance to meet Stewart herself, too.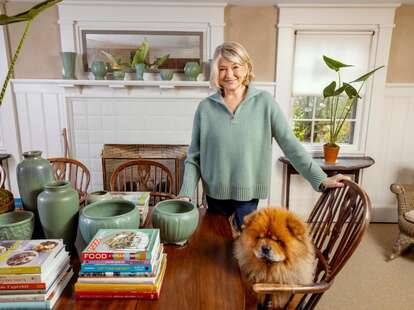 Photo courtesy of Booking.com
Photo courtesy of Booking.com
Get ready to celebrate Thanksgiving with the hostess with the mostess—the one and only Martha Stewart.
Booking.com just announced it has partnered up with Martha Stewart to offer one pair of lucky fans and travelers the opportunity to celebrate the beloved holiday on Stewart's own farm in Bedford, New York. The Thanksgiving-inspired stay will welcome guests for one night and two days, from November 18 to November 19, and it will include a series of experiences and activities curated by Stewart herself.
"Thanksgiving has always been one of my favorite holidays to celebrate, which is why I'm excited to be Booking.com's newest host and welcome guests to my Bedford farm for a Thanksgiving-inspired stay ahead of the big day," Stewart said in a statement. "I'm all about making it easier for everyone to celebrate life's big moments, so I really appreciate how easy Booking.com made it to list my Tenant House on the site. Every year, my Thanksgiving holiday prep begins weeks before hosting my family in Bedford, so I can't wait to welcome the guests that book this experience to my fall-ready Tenant House on the farm and look forward to sharing my favorite Thanksgiving-inspired traditions during their stay."
Upon arrival, you'll head on a welcome tour of the Tenant House at the farm, which is where you'll spend the night. You'll also meet Stewart's head gardener Ryan McCallister, who will guide you throughout the entire property, including Stewart's social media sensations—her chicken coop, gardens, and stables.
If you're wondering whether you'll be able to hang with Martha Stewart herself, the answer is yes. As part of the experience, you'll get the chance to have brunch with the farm's hostess and you'll enjoy a delicious meal prepared by James Beard award-winning chef Thomas Joseph. And if you want to learn some of Stewart's most iconic fall recipes, you'll be able to grab signed copies of her cookbooks.
That's not all of it, though. In addition to exploring the property and enjoying good meals, winning guests will learn some new skills as well. As part of the itinerary, you'll also attend a table setting and wreath-making demo with Kevin Sharkey, Stewart's executive director of design, who will teach you how to make your Thanksgiving table and decorations absolutely fabulous.
Now that you know what's in it for you, the only thing left to do is booking your spot ASAP. Martha Stewart's Thanksgiving-Inspired Farm Stay will become available on a first-come, first-serve basis on November 16 at 12 pm ET, while the stay will take place on November 18 and 19. To celebrate Thanksgiving, it will only cost you $11.23 to book the place and enjoy the entire experience. Additionally, airport transfer through Booking.com will be included as well.
For more information and to book your stay once it becomes available, you can visit Booking.com.
Serena Tara is a Staff Writer on the News team at Thrillist. She will beg you not to put pineapple on pizza. Follow her on Twitter and Instagram.