Mayo Ice Cream Has Arrived and People Are Totally Disgusted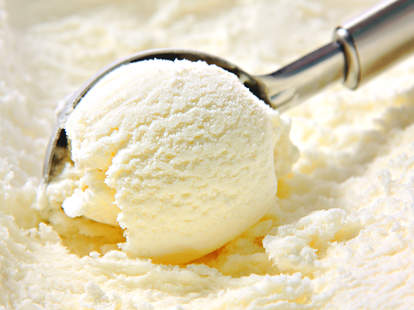 Social media has proven to be a fertile ground for the world's most pressing food debates. Is a hot dog a sandwich? Is soup a meal? Now, mayo ice cream has been thrown into that steaming cauldron. 
A Scottish ice cream parlor concocted a mayonnaise-flavored ice cream with Hellman's mayo. The Falkirk-based ice cream shop ICE shared an image of its condiment and dairy dessert on Instagram. The caption read, "Who knows a mayo addict?" Kyle Gentleman, the owner of ICE, explained the flavor to Today calling it a "full-on hit of fat and cream followed with an eggy milky aftertaste."
The post went viral, provoking intense reactions among people who were irreparably disgusted by the thought of a sandwich topping turning into dinner's final course.
I was just talking about ice cream (very passionately, by the way), and then there's a news about Mayo ice cream. Mayo as in Mayonnaise. my god. Everyday We Stray Further From God. just End me. the amount of Disrespect.

— tsuki. (@shikinogami) July 26, 2018
Imagine biting into ice cream thinking it's vanilla and it's fuckin mayo i'd be fighting someone

— A (@Mexocialist) July 25, 2018
I found out someone made mayonnaise ice cream. All I got to say is just because we can doesn't mean we should.

— Ginina Lingat (@ninalingt) July 26, 2018
I keep seeing the mayo ice cream thing and my first question is still, "okay, but is it WHITE PEOPLE mayo... or kewpie? Cauuussseee..... kewpie is some good shit." If they're really using Hellmans in ice cream then wtfwtfwtf no ew bad no

— Sofi (@BaronessSofi) July 26, 2018
I saw mayo flavored ice cream on my TL which is proof that this world is truly cursed

— beautiful soup✨🍲 (@_beautifulsoup) July 26, 2018
I just saw a video on Facebook for Mayo ice cream and I feel like I need to shower jfc

— grunge dad (@hlnzz) July 19, 2018
Though, mayo ice cream didn't only have detractors. Plenty of people were on-board with frozen, sweet condiment treats.
They blended the two best things to dip fries in- mayo and ice cream. It may not be all that bad..

— Bad Gyal Chun V ⚔️ (@_vivrantthang_) July 26, 2018
Someone in the U.S. should make a version of this because the people need to know if this is actually worth the fuss. Also, as long as people are knocking around condiment ice cream ideas, spicy brown mustard ice cream isn't a terrible idea.
Sign up here for our daily Thrillist email and subscribe here for our YouTube channel to get your fix of the best in food/drink/fun.

Dustin Nelson is a News Writer with Thrillist. He holds a Guinness World Record but has never met the fingernail lady. Follow him @dlukenelson.