McDonald's Is Introducing All-You-Can-Eat Fries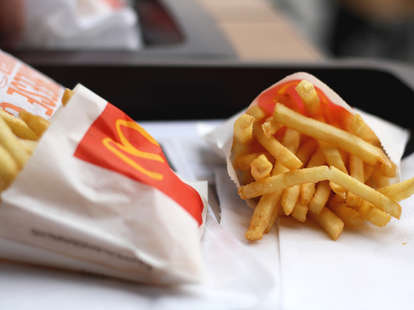 <a href="http://www.shutterstock.com/gallery-2674117p1.html?cr=00&amp;pl=edit-00">Jelena990</a> / <a href="http://www.shutterstock.com/editorial?cr=00&amp;pl=edit-00">Shutterstock.com</a>
<a href="http://www.shutterstock.com/gallery-2674117p1.html?cr=00&amp;pl=edit-00">Jelena990</a> / <a href="http://www.shutterstock.com/editorial?cr=00&amp;pl=edit-00">Shutterstock.com</a>
It's difficult to limit yourself to just a few McDonald's fries. In fact, it's sometimes difficult to limit yourself to a whole large carton. Those things are addictive. But soon, you'll be able to eat all the fries you want until you absolutely cannot take one more, because McDonald's is rolling out all-you-can-eat French fries.
Fast food dreams are becoming a reality at the new McDonald's location opening in St. Joseph, Missouri in July, which, according to St. Joseph News-Press, will offer all-you-can eat French fries. This particular location dubbed the "McDonald's of the Future" will feature electronic kiosks, allowing customers to customize burgers, create their own desserts, and order those much anticipated unlimited fries. There's no word yet on how much unlimited fries will cost, but hopefully you'll be able to eat your way to making it worth the price.
Although this is currently the only location with this option, the hope is that if it is popular in Missouri, unlimited fries will become a staple at other locations as well. Here's to hoping and saying RIP to loose-fitting pants.
Sign up here for our daily Thrillist email, and get your fix of the best in food/drink/fun.
Kara King is a News Writer at Thrillist and takes any all-you-can-eat sign as a personal challenge. Send news tips to news@thrillist.com and follow her at @karatillie.