McDonald's Is Getting Grilled on Twitter for Its Women's Day 'PR Stunt'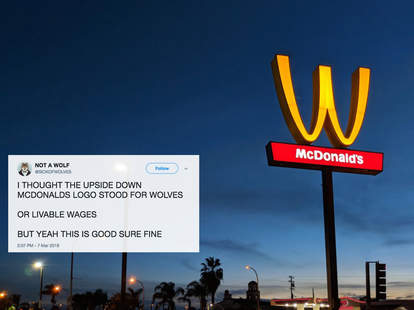 McDonald's, along with a bevy of other brands, paid tribute to International Women's Day with an alteration of its iconic golden arches. The company inverted its logo across social media channels, fashioning the golden M into a W, and one McDonald's outpost in California even went as far as to change the physical sign in front of its store. 
McDonald's has been tweeting its usual blither about burgers and fries today, mixing it up with inspirational stories for the occasion. Notice the golden arches are upside down (is it WcDonald's now?).
This was all an effort to drum up support for International Women's Day, but McDonald's actions have bee criticized by people who say the purely symbolic gesture is lazy and tone-deaf. The bulk of the invective is rooted in the generally low wages paid to fast food service workers, which aren't likely to improve by virtue of a modified logo.
Much of the full-throated complaints on Twitter did not hold back:
McDonalds: In celebration of women we are flipping the arches upside down.

Or you could give your employees better benefits.

McD: Look it's a W!

Maybe a living wage? Better family leave? A career path forward in the face of automation?

McD: The W stands for women.

— bogwolf (@truebe) March 7, 2018
I THOUGHT THE UPSIDE DOWN MCDONALDS LOGO STOOD FOR WOLVES

OR LIVABLE WAGES

BUT YEAH THIS IS GOOD SURE FINE

— NOT A WOLF (@SICKOFWOLVES) March 7, 2018
I always enjoy #InternationalWomensDay the one day of the year when we have a female President, workplaces without harassment and universal paid maternity leave.

Oh, we don't get any of that? Well, thanks for turning the arches upside down, McDonalds.

— Jennifer Wright (@JenAshleyWright) March 8, 2018
International Socialist Women's Conferences: Let us create a holiday celebrating women from a socialist perspective!

McDonalds: We hear you loud and clear *turns logo upside down*

— Thorne Melcher 🌸 (@ExistentialEnso) March 8, 2018
me (smart): the money mcdonalds is wasting on turning their signs upside down could have been donated to st judes
me (woke): the money mcdonalds is wasting on turning their signs upside down could have been used to make "sisters are doin it for themselves" the national anthem

— Andrew Polk (@polksalad) March 8, 2018
In a statement to Business Insider on Wednesday, the company noted: 
"In celebration of women everywhere, and for the first time in our brand history, we flipped our iconic arches for International Women's Day in honor of the extraordinary accomplishments of women everywhere and especially in our restaurants."
McDonald's logo will switch back to its normal orientation on Friday, although the vision of inverted arches are likely to live on for a while longer.
Sign up here for our daily Thrillist email and subscribe here for our YouTube channel to get your fix of the best in food/drink/fun.
 
Sam Blum is a News Staff Writer for Thrillist. He's also a martial arts and music nerd who appreciates a fine sandwich and cute dogs. Find his clips in The Guardian, Rolling Stone, The A.V. Club and Esquire. He's on Twitter @Blumnessmonster.