For 1 Hour Only, McDonald's Will Let You Add Free Bacon to Anything on the Menu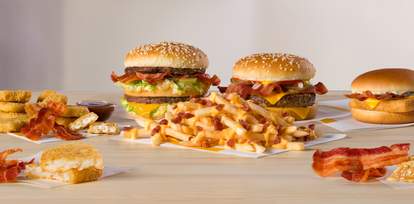 As a connoisseur of life's finer things, you're no doubt aware that McDonald's is adding a bunch of bacon to its menu. It was just announced this month that the items to be graced with the famed meat are the Quarter Pounder, the Big Mac, and cheesy bacon fries. While that's exciting, it's a bit tame compared to this latest news.
On Wednesday, McDonald's announced that it's hosting something called "Bacon Hour." What is that? It's an hour where you'll get free bacon with anything you order on the menu. Anything. That means if you order fries, you'll get bacon. If you order a sundae, you'll get bacon. If you order a fillet-o-fish, you'll, bizarrely, get bacon. Sure, it sounds gross, but it's important that you express yourself with this choice while you have the chance. 
The day of jubilation will take place on Tuesday, January 29 from 4 to 5pm local time all around the country. 
"When we said there's no such thing as too much bacon, we weren't kidding. January 29, we'll be upping the bacon ante -- the bac-ante, if you will -- and celebrating this glorious food favorite like never before," said Chef Michael Haracz, McDonald's manager of culinary innovation. "I love bacon. America loves bacon. I really can't wait to see the crazy and daring combinations our customers put together."
If you end up missing the official Bacon Hour, stay calm. You can still get bacon on those three items that don't have fish on them.
Sign up here for our daily Thrillist email and subscribe here for our YouTube channel to get your fix of the best in food/drink/fun.