McDonald's Kicked Off Black Friday With a Hilarious Twitter Fail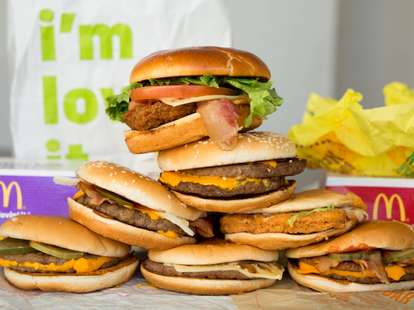 In the mad dash to finish all of your work before logging off for the long Thanksgiving weekend, forgetting to tie up at least one or two loose ends is easy if not inevitable in the chaos. Well, that's what appears to have happened over at McDonald's HQ, as evidenced by the fast food mega-chain's hilarious Black Friday fail on Twitter.
As countless other brands trumpeted their deals and promotions for Black Friday on social media, the official @McDonaldsCorp Twitter account posted its own promotional message for the occasion in a tweet at 1am on Friday. However, the tweet appears to be unfinished and posted before it was ready for primetime. If you manage a social media account and lose sleep over pre-scheduled tweets, prepare to grimace:
Oops.
As of early Friday afternoon, the tweet has been retweeted more than 14,000 times and has garnered more than 36,000 likes. The gif-filled reactions to the glorious goof were more or less as funny as you'd expect:
As several people point out in other replies to the original tweet (it's still visible on the account), the blunder will likely get way more attention than what McDonald's had originally planned to post.
For its part, McDonald's came back with a strong save in a reply to the tweet nine hours later:
Bravo, McDonald's. Bravo.
As for what the tweet was supposed to say, we may never know.
Sign up here for our daily Thrillist email and subscribe here for our YouTube channel to get your fix of the best in food/drink/fun.
Tony Merevick is Senior News Editor at Thrillist and loves a good Twitter fail. Send news tips to news@thrillist.com and follow him on Twitter @tonymerevick.