McDonald's Is Releasing an Adult Happy Meal Complete with Toys
It's a collaboration with Cactus Plant Flea Market.
McDonald's iconic Happy Meal isn't just for kids anymore.
The chain is rolling out a new collaboration with streetwear brand Cactus Plant Flea Market, releasing a limited-edition box that builds on McDonald's classic Happy Meal. Customers can choose from a Big Mac or a 10-piece Chicken McNugget, and the box also comes with fries and a drink. But what would a Happy Meal be without a toy, right?
Thankfully, the brand delivers with a series of figurines featuring unique takes on McDonald's classic characters Grimace, Birdie, and the Hamburglar, as well as a new character named Cactus Buddy. Each meal comes with one figurine, so you'll have to buy a couple to collect them all.
The new McDonald's x Cactus Plant Flea Market box will be available at all participating restaurants, at the drive-thru, by delivery, or on the McDonald's app starting October 3 while supplies last. There's even a treat for app users. Anyone who purchases a box via the McDonald's app will be automatically entered to win exclusive merch every week, including Cactus Plant Flea Market and McDonald's collaborations like t-shirts and a Grimace chair. Plus, there will be even more merch available on this website once the boxes are released.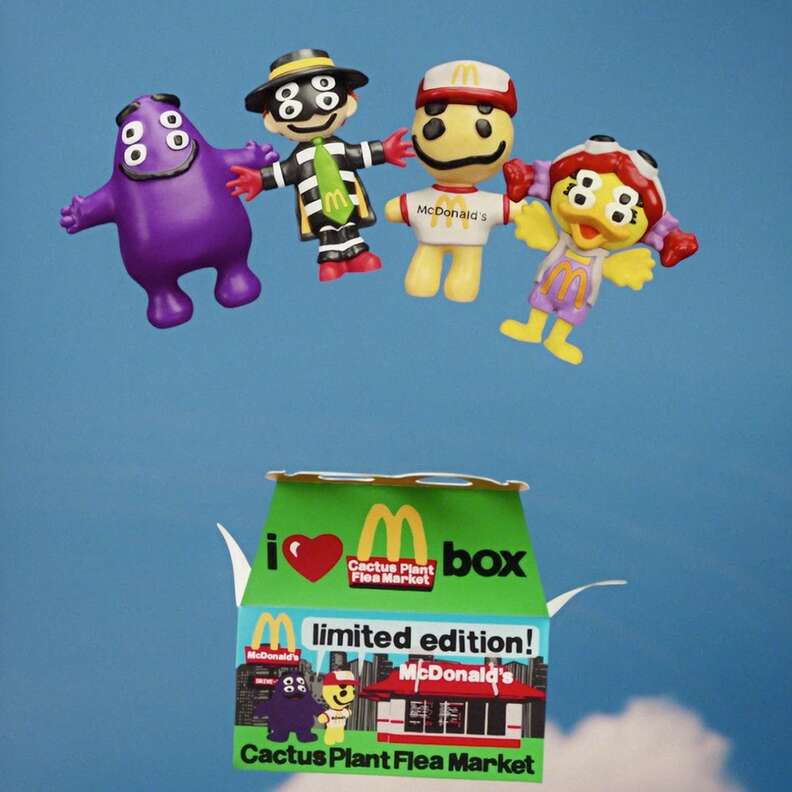 Chris Mench is an editor focusing on NYC News at Thrillist. You can follow him on Twitter for more of his work.