McDonald's New Cheeseburger Has Hash Browns and Bacon on It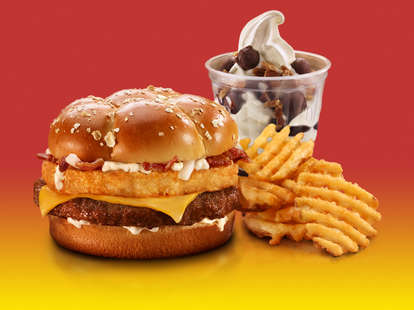 Sometimes, McDonald's is privy to huge misfires, like when it debuted pumpkin spice french fries -- an autumnal disaster more worthy of a trash can than a human being's mouth.
But silly missteps like that are easily overlooked when the fast food giant sticks to basics. From Brand Eating, we learn that McDonald's is doing just that this holiday season, having revealed this mouth-watering burger loaded up with a simple, yet totally sinful member of the carbohydrate family: a hash brown.
Called the Potato Rosti Burger, it's McDonald's answer to fast-food holiday malaise. You can also consider it a breakfast burger, given that the ingredients include bacon pieces, potato rosti (hash brown patty), cheddar, and cheese sauce on a toasted, rolled-oat-topped bun.
If you're a drooling resident of the United States, you better wipe up that excess salivation, because the Potato Rosti Burger is only available in Canada for the duration of the holiday season. Yes, it's true the rest of the world gets all the nice things, like this Nutella burger, which is a McDonald's delicacy only available in Italy.
Canadians are encouraged to enjoy the hash brown burger with waffle fries and a sundae, because maximizing your caloric intake is obviously a competitive sport when you're under the golden arches.

Sign up here for our daily Thrillist email, and get your fix of the best in food/drink/fun.
Sam Blum is a News Staff Writer for Thrillist. He's also a martial arts and music nerd who appreciates a fine sandwich and cute dogs. Find his clips in The Guardian, Rolling Stone, The A.V. Club and Vice. He's on Twitter @Blumnessmonster.