McDonald's has joined Wendy's in offering impressive deals on their mobile app. Whether it's here to stay or simply an attempt to get you to download the app, you can dig up cheap eats right now. (The app does request that you share some limited personal information.)
In addition to the deal where it's giving out free french fries every Friday, you can score a $1 sandwich once per week until September 30 at participating locations. (This deal formerly said once per day, as per the image below.) There's additionally a separate deal offering a $1 McDouble every day through December 30.
Recommended Video
Please Don't Hang Up: The Best BBQ & Barcade in Dog-Friendly Kansas City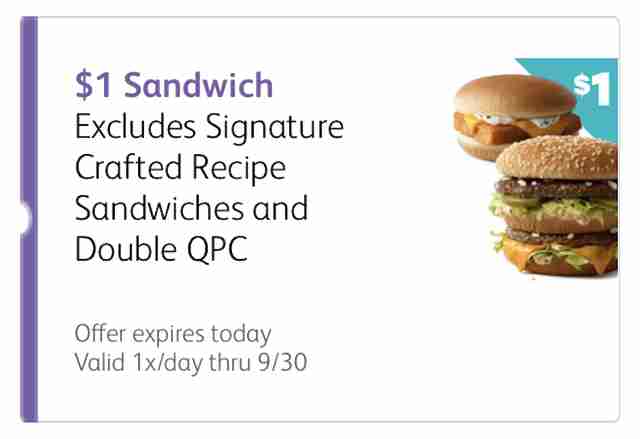 In the deals section of the app, you get a new coupon every week for a $1 sandwich. So, you can get one per week or day depending on which coupon you're using, which can be scanned in-store or used on a mobile order. The $1 sandwich offer is good on almost every sandwich McDonald's offers with the exclusion of their Signature Crafted Recipe sandwiches and the Double Quarter Pounder with cheese. That means other favorites like breakfast sandwiches and Big Macs are on the menu. 
That's a lot of dollar sandwiches. No one is recommending you eat a 563-calorie Big Mac every day through the end of September. That would be insane. However, you'll have a tough time finding a sandwich for less than that unless you go spend some time at grandma's house.
Sign up here for our daily Thrillist email and subscribe here for our YouTube channel to get your fix of the best in food/drink/fun.