McDonald's Is Giving Out Free Fries Every Friday Through June 28
The chain's "Free Fries on Friday" promotion is back to make you order much more than free fries.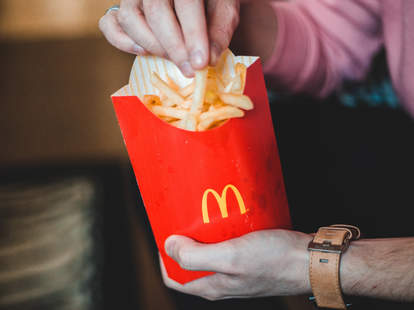 Photo by Erik Mclean/Unsplash
Until now, May's list of free food deals was an endless scroll of pandemic sympathies from pretty much every chain except our fry daddy, McDonald's. But now Ronald is finally jumping on board with the return of its "Free Fries on Fry Day," which promises a medium fry with a $1 purchase, the discount equivalent of holding us while we cry.
Sure, Ronald hasn't been the best support system recently, but daddies sometimes struggle with that. Look, he's trying to make up for it now. The offer is redeemable once every Friday from now until June 28, 2020, according to a report by Chew Boom.
To get the deal, all you have to do is spend at least a buck via the company's Mobile Order & Pay app after 11am. Go to the "deals" section and click the button describing the option. You'll get one free fry order per registered user. FYI, most McDonald's restaurants in the United States are still open and serving food through drive-thru, carry out, and McDelivery.
Sorry Steak 'n Shake, we really appreciated your handing out free fries every single day, but we'll likely be swerving away from your drive-thru at the weekend's advent to get the second-best fast-food french fry in the world. 
h/tChew Boom
Sign up here for our daily Thrillist email and subscribe here for our YouTube channel to get your fix of the best in food/drink/fun.
Ruby Anderson is a News Writer at Thrillist. Send your tips to randerson@thrillist.com.