McDonald's Quarter Pounder Is Getting a Huge Makeover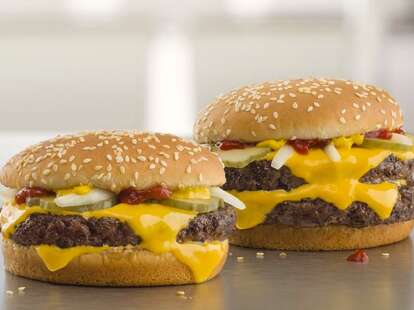 Courtesy: McDonald's
Courtesy: McDonald's
McDonald's is done pulling beef patties out of a freezer and throwing them on a grill. On Tuesday, the global burger conglomerate announced that it's eschewing frozen beef in favor of fresh, made-to-order patties for its Quarter Pounder burgers and Signature Crafted burgers.
Currently, the huge switch to fresh beef has rolled out to 3,500 restaurant locations in cities such as Atlanta, Memphis, Salt Lake City, Orlando, and Raleigh, although it's destined to hit all McDonald's outposts in the contiguous United States by spring time, the company said in a press release.
McDonald's announced a burger revamp was imminent last year, basing its decision to do away with frozen patties on customer feedback. The company has been testing fresh burger patties in Dallas and Tulsa, and claims positive results, writing in its release that it "saw a 90 percent customer satisfaction from customers who order the burgers, and 90 percent intent to repurchase."
So far, the switch is boding well for McDonald's. In a taste test, the Chicago Tribuneclearly favored the fresh option, writing: "The fresh beef patties were indeed juicier than its frozen counterpart -- if you squeezed the sandwich, the liquid trickled out and coalesced into a small puddle on the tray liner."
Ironically, McDonald's is following in the footsteps of the ill-fated, Chipotle-owned burger chain Tasty Made, which saw its all-natural and fresh-beef strategy fail at its only outpost, located in Lancaster, Ohio.
You can probably expect a better outcome from a global fast-food powerhouse like McDonald's, though.
Sign up here for our daily Thrillist email and subscribe here for our YouTube channel to get your fix of the best in food/drink/fun.
 
Sam Blum is a News Staff Writer for Thrillist. He's also a martial arts and music nerd who appreciates a fine sandwich and cute dogs. Find his clips in The Guardian, Rolling Stone, The A.V. Club and Esquire. He's on Twitter @Blumnessmonster.