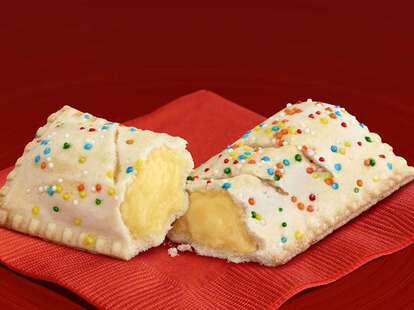 McDonald's/Facebook
McDonald's/Facebook
McDonald's pies are one of life's great sweet treats. The apple pie, a year-round favorite, is occasionally joined by more seasonal flavors. In the early fall, there was the Pumpkin & Creme Pie, and now, just in time for winter, the beloved Holiday Pie is making its momentous return for the 2022 holiday season, Brand Eating reports.
Now if you haven't had the pleasure of trying this fast food delicacy, let me catch you up to speed. The turnover-style pie is made with a crusty, flaky pastry dough, filled with vanilla custard, glazed with sugar, and topped with rainbow sprinkles.
It's also cheaper than the chain's fellow fan-favorite Apple Pie. You can get your hands on the limited-time vanilla custard Holiday Pie for $1.19 each or $1.89 for two. The Apple Pie, for reference, costs $1.39 for one and $2.19 for two.
The Holiday Pie is available at participating McDonald's locations across the country. Last year, McDonald's confirmed to Thrillist that the pie would be available through early January while supplies last, so we can only hope for the same timeline this year. Check the McDonald's app to see whether your local McDonald's has the Holiday Pie.