McDonald's Is Making Crab Sandwiches Now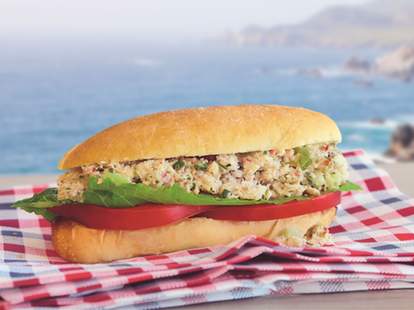 Believe it or not, McDonald's makes other seafood sandwiches besides the famous Filet-O-Fish. Last summer, the fast food giant unleashed lobster rolls -- yes, actual lobster rolls -- at select restaurants in New England, and now, it's serving up another regional seafood menu item: crab sandwiches.
No, really. McDonald's announced the new entree on Thursday, dubbing it as simply the McDonald's Crab Sandwich (probably because 'McCrab' sounds like what you'd call someone who hasn't had their morning coffee yet). The sandwich is made with Snow Crab meat that's topped with mayo dressing, romaine lettuce, and tomato slices and comes served on a toasted sourdough bun that's smeared with herbed butter. Sounds fancy, right? Well, McDonald's said it was created in partnership with chef and TV personality Ryan Scott.
McDonald's is currently testing the Crab Sandwich at just four of its locations in San Jose, California, following the success of another local favorite, Gilroy Garlic Fries, which it tested in the Bay Area last summer. If the Crab Sandwich is well-received by customers in the test market, McDonald's said it'll roll out to as many as 250 restaurants throughout the Bay Area later this year as part of its ongoing work to create innovative regional menu items.
"After the overwhelming success of our local favorite, McDonald's Gilroy Garlic Fries, we wanted to test our own take on the beloved crab sandwich," Nick Vergis, McDonald's Co-op President, San Francisco Bay Area, said in a statement. "We're excited for our customers to try it and share their feedback."
In other words, if you find yourself in San Jose -- or, maybe, the Bay Area later this year -- you know what to do.
Sign up here for our daily Thrillist email, and get your fix of the best in food/drink/fun.
Tony Merevick is Cities News Editor at Thrillist and can't seem to eat enough seafood, so he'd totally try one of these things. Send news tips to news@thrillist.com and follow him on Twitter @tonymerevick.