McDonald's Is Unleashing a McChicken Biscuit and Chicken McGriddle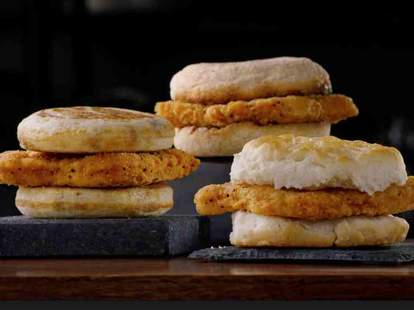 A few years back, we heard rumblings of a Chicken& Waffles-like McGriddle (with maple syrup-infused buns, no less!) at McDonald's, but following its Florida-based trial run, we heard little more. That is, until now. McDonald's is reportedly gearing up to finally unleash its Chicken McGriddle nationwide, along with a new McChicken Biscuit. 
McDonald's plans to add the new sandwiches to its breakfast lineup in January, according to leaked internal documents obtained by Insider. Some areas across the country will also be blessed a spicy variant. Both sandwiches appear to be exactly what they sound like -- crispy breaded chicken patties served on either McDonald's beloved pancake-like McGriddle "buns" or basic biscuits. 
ICYMI, the chain has been teasing the release for months -- perhaps in response to that ongoing Popeyes competition and Wendy's own breakfast revamp? "What came first, the chicken or the egg? Set your alarm for more reasons to visit McDonald's for breakfast in 2020," a McDonald's representative hinted to Business Insider in October. But why is McDonald's getting into the fried chicken breakfast game now? KeyBanc Capital Market analysts called both breakfast and chicken the "new battlegrounds" in fast food, per MarketWatch. 
However, it remains to be scene if the new sandwiches will prove to be formidable matches against other players. McDonald's has been trying to get a bite of the Popeyes sandwich buzz for months, but to little success. In fact, the phenomenon put a real dent in Micky D's same-store sales. While Wendy's breakfast menu, and its unrivaled Honey Butter Chicken Biscuit, is making a real case against the golden arch chain, as well. 
Can those maple syrup-infused buns lure back customers? TBD.
h/t Insider 
Sign up here for our daily Thrillist email and subscribe here for our YouTube channel to get your fix of the best in food/drink/fun.
Megan Schaltegger is a staff writer at Thrillist. Follow her @MegSchaltegger.