The McRib Is Finally Back at McDonald's After Playing Hard-to-Get Again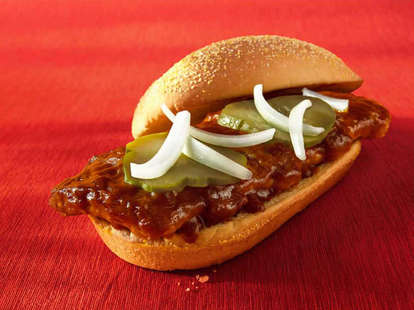 The McRib is coy. It'll bat its slivered onions at you, its patty seductively glazed in a sweet, glistening BBQ sauce. Its pickles will flaunt its brighter attributes, while its buns remain just as soft and memorable as ever. And then -- just as abruptly as it came -- the McRib will turn on its hoagie and leave you. But don't worry -- the McRib will return. The McRib always comes back.
And back again it is. Starting on October 7, McRibs are reappearing at over 10,000 McDonald's locations, like a long lost friend who you haven't spoken to in ages but still feel the same towards -- whether that feeling is resentment or genuine joy at the prospect of being reunited.
"We're always listening to our customers and we know the McRib has some of the most loyal fans," Chef Chad Schafer, senior director of culinary innovation and commercialization at McDonald's, said in a press release. "This year we're excited to give every McRib fan new ways to show their love for the sandwich." And that new way, of course, is with McRib-themed GIFs.
Fans of the saucy sandwich can share McRib GIFs on Instagram, because naturally that is what you would do when you can't contain your excitement whilst purchasing a McRib.
McDonald's has revealed that the GIFs are a permanent addition to its Giphy sticker feeds, but as per usual, the McRib will not remain a permanent fixture on McDonald's menu. Last year, the McRib left the menu in November 2018 so if history is to repeat itself, you have roughly two months to get a hold of the ribless rib sandwich.
Sign up here for our daily Thrillist email and subscribe here for our YouTube channel to get your fix of the best in food/drink/fun.
Kat Thompson is a staff writer at Thrillist. Follow her on Twitter @katthompsonn.