McDonald's recently announced its official—and dare we say, belated—plans to finally join the ongoing chicken sandwich wars. The fast food giant's attempt at replicating Popeyes' success isn't set to hit menus nationwide until February 24, but it turns out you can score special early access to the sandwich with a limited-edition merch capsule drop this week.
The Crispy Chicken Sandwich Drop—available through CHKNDrop.com beginning February 18 at noon EST for $5—gets you early access to the sandwich on February 23 (a day before the official launch), music producer Tay Keith's new, never-before-heard track on 7" vinyl, and a sandwich-inspired "crispyjuicytender" hoodie, according to a spokesperson for the chain.
"We know fans can't wait for our new Crispy Chicken Sandwich to hit restaurants, so we're celebrating them and this moment with a drop like no other," VP of US Communications David Tovar said in a press release. "We're excited to give fans early access to this sandwich and exclusive swag they can't get anywhere else to memorialize this great addition to our menu."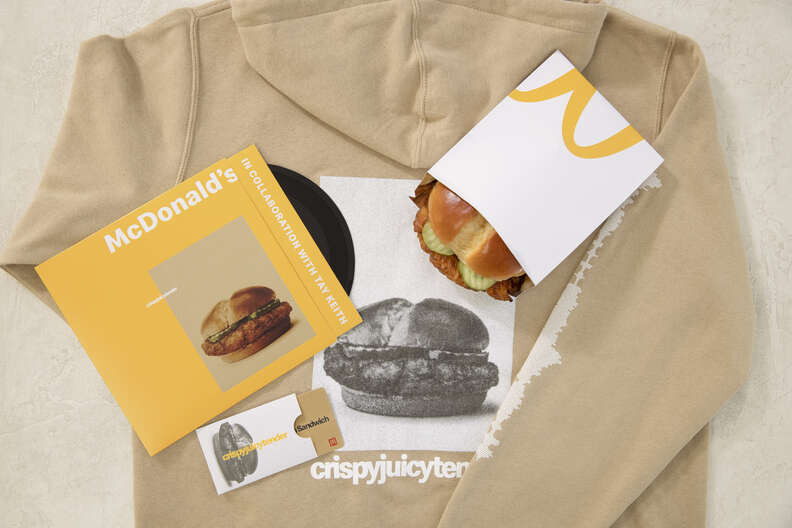 McDonald's isn't just serving up one version of its crispy new poultry creation—you've got three to choose from.
"The new sandwich features a brand new crispy, juicy, tender filet made with all-white meat chicken that's sure to capture the hearts and tastebuds of chicken enthusiasts across America when it debuts at participating restaurants nationwide," McDonald's said in a statement in January. "We're serving it up three ways—Crispy, Spicy and Deluxe."
The Crispy Chicken Sandwich comes topped with crinkle cut pickles on a toasted, buttery potato roll. The Spicy Chicken Sandwich is prepared the same way, but with spicy pepper sauce. Finally, the Deluxe Chicken Sandwich features shredded lettuce, tomatoes, and mayo.
Sign up here for our daily Thrillist email and subscribe here for our YouTube channel to get your fix of the best in food/drink/fun.
Megan Schaltegger is a staff writer at Thrillist.