You Can Try McDonald's New & Improved Chicken Sandwich for Free via DoorDash
Conduct a little side-by-side taste test with Popeyes, perhaps?
McDonald's unleashed its highly anticipated trio of new and improved chicken sandwiches on Wednesday—and while we've certainly got our own opinions on the matter—you might just need to conduct a little taste test for yourself. Especially considering you can get the new Popeyes competitor for free right now via DoorDash.
From March 1 through March 7, you can snag the all-new Crispy Chicken Sandwich with any of order of $15 or more. Toss in some fries, maybe some Spicy McNuggets, and get yourself to that cart minimum. You'll automatically score the sandwich when you plug in code CRISPY.
"The new sandwich features a brand new crispy, juicy, tender fillet made with all-white meat chicken that's sure to capture the hearts and tastebuds of chicken enthusiasts across America when it debuts at participating restaurants nationwide," McDonald's said in a statement in January. "We're serving it up three ways—Crispy, Spicy and Deluxe."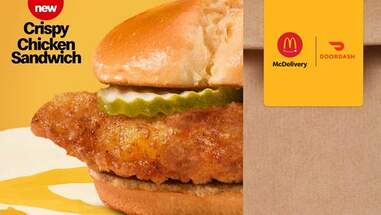 Courtesy of McDonald's
And while you won't be able to get the Spicy or Deluxe sandwich iterations for free as part of this specific deal, you can always toss 'em in to make it to that order minimum. ICYMI, the Crispy Chicken Sandwich (aka your freebie!) features a fried chicken fillet and pickles on a buttery potato roll. The Spicy Crispy Chicken Sandwich, meanwhile, features the same, but with the addition of spicy pepper sauce. The Deluxe Crispy Chicken Sandwich boasts those crinkle cut pickles atop the chicken fillet, as well as mayo, tomatoes, and lettuce sandwiched between the potato roll.
"We've heard our customers loud and clear, and we know they're craving more chicken options," Vice President of Menu Innovation Linda VanGosen said in the statement. "We're confident all chicken—from traditionalists to spice enthusiasts—will discover a new menu favorite they'll come back for time and time again."
Sign up here for our daily Thrillist email and subscribe here for our YouTube channel to get your fix of the best in food/drink/fun.
Megan Schaltegger is a staff writer at Thrillist.