McDonald's Is Finally Taking on Popeyes and Chick-fil-A With New Chicken Sandwiches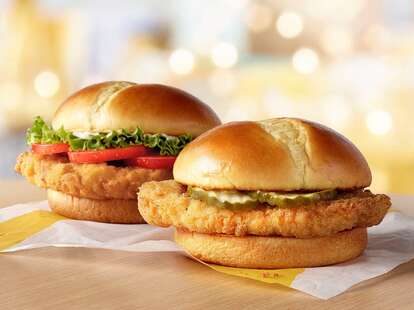 Up until this very moment, I was firmly planted on team Popeyes in the 2019 Chicken Sandwich Wars. And while I'm not here to make any official retractions per se, I do have news that could alter our future fast food allegiances: McDonald's is making all-new classic fried chicken sandwiches to take on the reigning fast food chicken sandwich champ and Chick-fil-A.
Starting Monday and lasting through January 26, Mickey D's is slinging two limited-edition fried chicken sandwiches as part of a test launch in Knoxville, Tennessee and Houston, Texas, according to a report by CNN. Both sandwiches are made with the chain's new fried chicken fillet, which is in fact different than what's used in the good ol' McChicken and the Buttermilk Crispy Chicken Sandwich.
As you can see in the photo (shown above), the simpler of the two sandwiches looks like a straight-up Chick-fil-A copycat. That sandwich, dubbed the Crispy Chicken Sandwich, comes topped with butter and crinkle cut pickles on a potato bun. Sound familiar? It's nearly the same a Chick-fil-A's iconic sandwich. There's also a Deluxe version, which features tomatoes, lettuce, and mayo. But the similarities don't stop there. The sandwiches are packaged in a foil bag -- you know, just like Chick-fil-A and Popeyes.
"We certainly meant no beef when we hinted at a new menu item arriving in some of our restaurants. It's true, we're testing two new chicken sandwiches," a spokesperson for McDonald's told Thrillist. "The Crispy Chicken Sandwich and the Deluxe Crispy Chicken Sandwich will be tested beginning December 2 through January 26, 2020. Houston and Knoxville are getting a sneak peek, everyone else should stay tuned for what's to come in 2020."
This isn't the first time McDonald's has toyed with a new chicken sandwich recipe. In 2018, the chain tried out the Ultimate Chicken Sandwich at more than 160 locations in Washington. And while this pre-dates the Popeyes craze, there was definitely some Chick-fil-A inspiration there, as well.
Sign up here for our daily Thrillist email and subscribe here for our YouTube channel to get your fix of the best in food/drink/fun.
Megan Schaltegger is a staff writer at Thrillist. Follow her @MegSchaltegger.