McDonald's Is Phasing Out Plastic Straws in Some of its Restaurants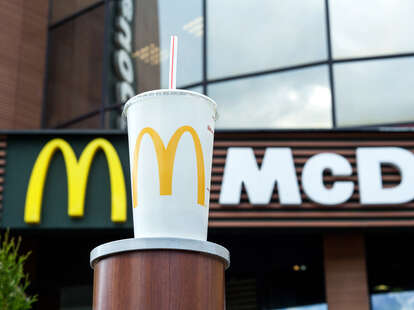 Shutterstock
Shutterstock
McDonald's is heeding the advice of its customers in the United Kingdom and phasing out plastic straws from its 1,300 restaurants in the country, presenting a daunting challenge to the enormous garbage island currently swelling in the Pacific.
McDonald's U.K. CEO Paul Pomroy explained that customers prefer to ask for straws instead of receiving them with every drink order. The burger conglomerate will experiment with recyclable paper straws at some outposts starting in May.
"The reduction in use of plastics is a hugely important issue for business, for the sector, and for society...We've been on a journey over the past 10 years with recycling, from taking out foam and polystyrene to where we are now - with Big Mac 'clam' boxes that are made with recycled board," Pomroy told Sky News.
Ninety percent of UK residents visit a McDonald's in the average year, with the chain serving a clientele of 3.7 million customers daily, the report claims. Necessarily, there are lots of straws clogging garbage bins, providing a surplus of rubbish throughout the country when the straws aren't recycled. 8.5 billion plastic straws are used throughout the UK annually, and many aren't recycled.
When the new McDonald's scheme begins, plastic straws will be kept behind the counter at some UK outposts, and patrons will have to ask for one, much like they do for burgers, fries, and figurines of weird, purple mascots.
McDonald's is following the lead of other prominent eateries in the UK, including Pizza Express and Wetherspoon, a ubiquitous pub chain, in eschewing plastic straws. The trend has gained traction internationally, with California residents voting to ban the use of plastic bags in supermarkets in 2016, with a similar legislative item currently making its way through the state government that could potentially ban sit-down restaurants from providing plastic straws unless customers ask for one. According to National Geographic, Kenya, China, Bangladesh, Rwanda, and Macedonia have also banned plastic bags.
There's currently no word on the experiment having an effect at McDonald's across the pond, although according to Pomroy's statements, recycling and sustainability seem to be of great importance to McDonald's strategy going forward. Floating garbage islands be damned.
Sign up here for our daily Thrillist email and subscribe here for our YouTube channel to get your fix of the best in food/drink/fun.
 
Sam Blum is a News Staff Writer for Thrillist. He's also a martial arts and music nerd who appreciates a fine sandwich and cute dogs. Find his clips in The Guardian, Rolling Stone, The A.V. Club and Esquire. He's on Twitter @Blumnessmonster.