McDonald's Just Removed Artificial Ingredients From 7 of Its Classic Burgers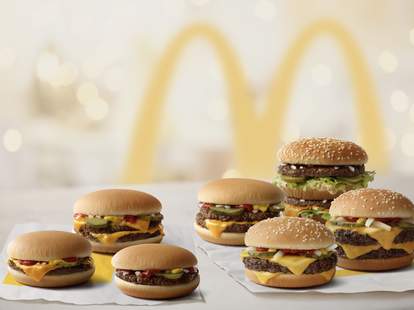 When you hear about fancy international McDonald's items like the Chicken Maharaj Mac or the Chicken Curry Breakfast Burger, it's understandable if you get a wandering eye. What would a curry breakfast sandwich from a fast-food restaurant taste like? you muse. We get it, but why don't you take a second to listen to "Big Yellow Taxi" and consider what already have: a banquet of burgers.
Those burgers just got better, after all: On Wednesday, McDonald's announced that its "classic burgers" no longer contain artificial preservatives, artificial flavors, or added colors from artificial sources. The chain does note, however, that the pickles it uses still contain an artificial preservative. But you can opt of the pickles if you so choose.
Artificial preservatives haven't been kicked out of the chain entirely though; this only applies to the restaurant's "classic burgers." That includes the hamburger, cheeseburger, double cheeseburger, McDouble, Quarter Pounder with Cheese, Double Quarter Pounder with Cheese, and Big Mac.
To de-artificialize its products, preservatives were removed from its American cheese, Big Mag Special Sauce, regular bun, Quarter Pounder bun, and Big Mac bun. When you consider that McDonald's serves 9.5 million slices of cheese and 8 million buns a day in the United States, that's a big shift, which comes amid other changes like McDonald's commitment to transition to cage-free eggs by 2025 and sustainably source 100% of McCafé coffee by 2020.
While it may not be a Chicken McDo with McSpaghetti, but it's definitely a step in the right direction.
Sign up here for our daily Thrillist email and subscribe here for our YouTube channel to get your fix of the best in food/drink/fun.