Now Over 400 People in 15 States Have Been Sickened By The McDonald's Salad Parasite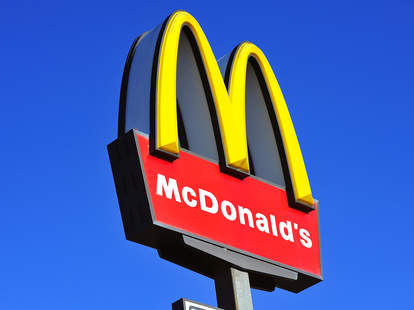 If you've been glancing heavenward in hopes of winning a McDonald's Gold Card, maybe steer clear of the salads: the Cyclospora parasite outbreak affecting the chain's salads in 15 states appears worse than originally projected. The FDA reported earlier this week that 436 cases of illness have been confirmed in laboratory tests, resulting in a total of 20 hospitalizations -- a marked uptick from an initial three hospitalizations reported in July. 
The new toll is slightly more alarming than the original reports, which put the number of sickened customers at 163 patrons in 10 states. The Cyclospora parasite outbreak, which can be caused by fecal matter in food, was attributed to a regional lettuce distributor, which McDonald's has since severed ties with. The regional lettuce supplier, Fresh Express, is currently cooperating with the FDA's investigation of the outbreak. 
In July, with news of the parasite fresh, McDonald's yanked salad offerings from 3,000 of its restaurants across the midwest out an abundance of caution. According to the CDC, Cyclospora symptoms include "loss of appetite, weight loss, stomach cramps/pain, bloating, increased gas, nausea, and fatigue. Vomiting, body aches, headache, fever, and other flu-like symptoms."
With the last illness stemming from the tainted salads reported on July 21, it's probably safe to eat a McDonald's salad, although the news doesn't bode well for anyone observing the rising numbers of foodborne illness currently rampaging throughout the country. 
Sign up here for our daily Thrillist email and subscribe here for our YouTube channel to get your fix of the best in food/drink/fun.
 
Sam Blum is a News Staff Writer for Thrillist. He's also a martial arts and music nerd who appreciates a fine sandwich and cute dogs. Find his clips in The Guardian, Rolling Stone, The A.V. Club and Esquire. He's on Twitter @Blumnessmonster.