McDonald's Salads Tainted By Parasite Have Now Sickened 163 People in 10 States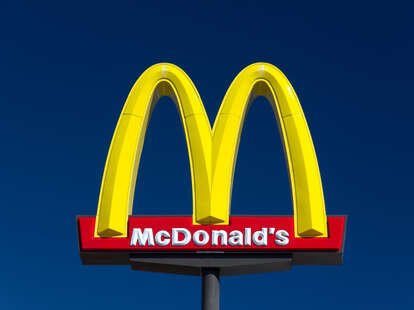 Opting for a salad at McDonald's is to deny the true purpose of a trip to McDonald's, but the fast food giant is giving its customers across the country a reason to head somewhere else entirely: a poop parasite found in the chain's salads at restaurants in the midwest has sickened 163 people.
Last week, it was reported McDonald's had yanked salad offerings from 3,000 outposts in 14 states following an outbreak of the Cyclospora parasite -- which can be caused by real-life fecal matter in food. The scourge of tainted salad was originally reported to have affected 105 people across the midwestern states, but the numbers are growing and spreading across the country, according to USA Today: Now, 29 people in Illinois, 16 in Iowa, seven in Missouri, three in Minnesota and two each in Nebraska, South Dakota and Wisconsin have been affected, according to the paper. The FDA notes that three people have been hospitalized and no one has been killed by the outbreak.
When news of the outbreak emerged, McDonald's scrambled to find a new regional lettuce distributor, as its supplier in Streamwood, Illinois was believed to play a role in the situation: "We have removed lettuce blend provided by Fresh Express' Streamwood, Illinois, facility," the chain said in a statement Friday. "Many restaurants already have a new lettuce blend supply, while we expect all identified restaurants will have new supply in the next few days."
"McDonald's is committed to the highest standards of food safety and quality and we continue to cooperate and support regulatory and public health officials in their investigations," the statement continues.
For what it's worth, Fresh Express denies that McDonald's action implicates it in the outbreak.
The CDC, which is investigating the outbreak along with the FDA and state officials, describes the Cyclospora parasite as causing "watery diarrhea, with frequent, sometimes explosive, bowel movements."
"Other common symptoms include loss of appetite, weight loss, stomach cramps/pain, bloating, increased gas, nausea, and fatigue. Vomiting, body aches, headache, fever, and other flu-like symptoms may be noted. Some people who are infected with Cyclospora do not have any symptoms."
It is also, as previously stated, a parasite that frequently contaminates food and water through feces, so bear in mind that those swept up in the scourge have possibly ingested poop.
Whatever the case may be, it might behoove you to just indulge your worst impulses and buy a McFlurry at your next trip to the golden arches.
h/t BGR
Sign up here for our daily Thrillist email and subscribe here for our YouTube channel to get your fix of the best in food/drink/fun.
 
Sam Blum is a News Staff Writer for Thrillist. He's also a martial arts and music nerd who appreciates a fine sandwich and cute dogs. Find his clips in The Guardian, Rolling Stone, The A.V. Club and Esquire. He's on Twitter @Blumnessmonster.